China to reap rewards of AI economic boost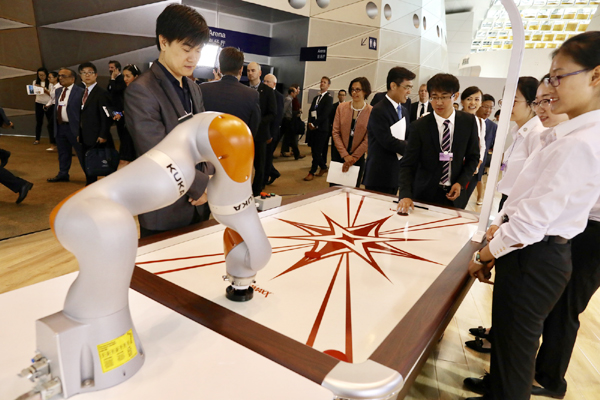 An industrial robot interacts with a participant of the Dalian Summer Davos Annual Meeting at the Dalian International Conference Center in Dalian, Northeast China's Liaoning province, June 27, 2017. [Photo by Zhu Xingxin/chinadaily.com.cn]
China will be among the biggest beneficiaries of a $15.7 trillion economic boost to the global economy delivered by artificial intelligence, a new report said on Tuesday.
The report, released by consultants PricewaterhouseCoopers, said global GDP will be 14 percent higher in 2030 as a result of AI being used to boost labor productivity and increase consumer demand for technology-enabled products.
"The greatest economic gains from AI will be in China, with a 26 percent boost to its GDP in 2030, and North America, with a 14.5 percent boost," the report said.
According to PwC, the AI-enabled growth from the two economies will be equivalent to a total of $10.7 trillion in 2030 and account for almost 70 percent of the global economic impact.
Anand Rao, an AI consultant at PwC, said that initially, North America will experience productivity gains faster than China, for the former is better prepared to adopt AI and jobs in the region are highly fragmented, making them susceptible to replacement by more-productive technologies.
But China is expected to catch up on both relevant technologies and overtake the United States in a decade, Rao said.
He said that AI will empower a slate of applications such as the internet of things, augmented reality and robots which will significantly enhance productivity.
China's tech powerhouses have been pouring billions of dollars into setting up AI laboratories and poaching talents from their foreign counterparts.