China can lead the world in 'artificial intelligence' R&D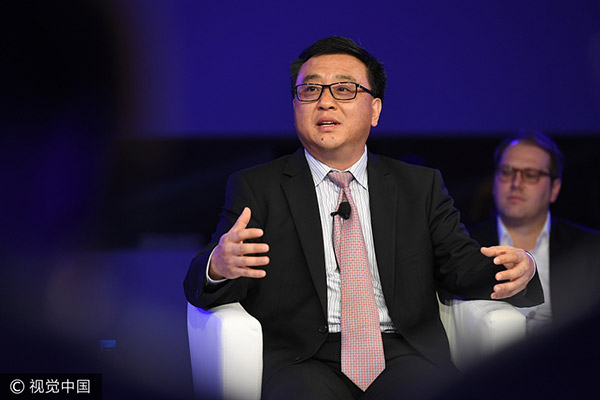 Zhang Yaqin speaks at 2017 Summer Davos in Dalian, Liaoning province, June 27. [Photo/VCG]
Zhang Yaqin, president of tech giant Baidu Inc, has called on Chinese companies to grasp the opportunities that will emerge from research and development into "artificial intelligence".
The AI sector is the new frontier for high-tech firms with the United States and China leading the way.
"Even though the US enjoys an advantage in the development of algorithms, China's edge lies in its huge base of data," Zhang said before Summer Davos started in Dalian. "And without data, algorithms cannot work.
"But we are fortunate (to live) during this time of AI technology," he added. "We are fortunate China is moving to the center stage."
Baidu was one of the first Chinese companies to roll out research and development for AI projects.
Back in 2013, the online giant set up a deep learning lab and since then it has invested heavily in R&D programs across the world, including in Silicon Valley, the technological hot house of the US.
"Last year, we invested more than 10 billion yuan ($1.46 billion) in R&D," Zhang said. "That is more than 50 percent of our revenue.
"It is probably the largest investment for a high-tech company in terms of percentage funding in R&D," he added.
The cornerstone of development for Baidu is a system known as Duer, a Chinese phrase loosely meaning "secretary to AI".
Zhang stressed that Duer was the operating system for "artificial intelligence", just like Windows for PCs or Google's Android and Apple's iOS for smartphones and tablets.
The Duer system would be applied in home devices and driverless cars as well as run the Baidu Cloud.
In March, the company linked up with home appliance makers, such as Haier Group Corp and Midea Group, to build AI technology-inspired refrigerators. These models will be able to interact through voice control.
Baidu also launched its Apollo Project the following month to open up its autonomous driving system to car makers.
"Because there are hurdles to overcome in autonomous driving, Baidu is working on developing software," Zhang said.
The long-term aim is to mass produce driverless cars by 2020, according to earlier company statements.
Data from Chinese research firm CCID Consulting showed China's AI market topped 23.9 billion yuan last year and is expected to reach 38 billion yuan by 2018.
"China's AI industry is booming," Zhang said. "There are always arguments that there will be companies that will not survive. Maybe, 90 percent will go to the wall."
"Back in 1998, there were a lot of internet companies," he added.
"Then in 2000, there was a crash. A lot disappeared, but the internet survived and boomed."
The same will happen to the AI sector, Zhang pointed out.