DJI takes to skies again, with launch of new Spark drone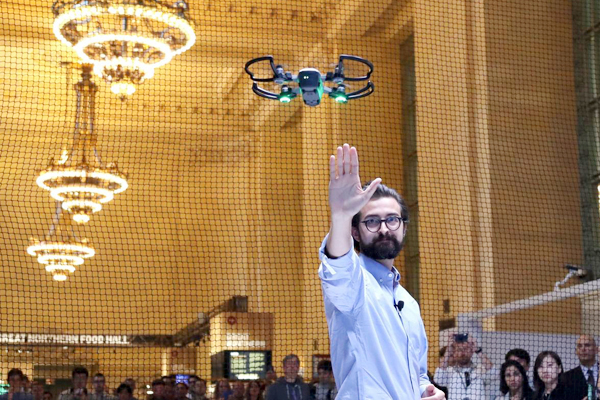 Michael Perry, director of strategic partnerships of DJI, demonstrates the palm-sized drone Spark during an event in New York. PROVIDED TO CHINA DAILY
Shenzhen-based group SZ DJI Technology Co, the world's biggest consumer drone maker, launched its new product, Spark, in New York on Wednesday, with key innovations it hopes will see the device take off in the burgeoning market.
DJI said Spark is an easy-to-use camera drone that can lift off from the palm of a hand.
It is also the first drone that users can control with hand gestures alone, removing the barriers between the user and the camera in the sky.
Michael Perry, director of strategic partnerships at DJI, introduced Spark to around 200 people at a launch event at Grand Central Station.
"Controlling a camera drone with hand movements alone is a major step toward making aerial technology an intuitive part of everyone's daily life, from work and adventure to moments with friends and family," said Paul Pan, senior product manager at DJI.
"Spark's revolutionary new interface lets you effortlessly extend your point of view to the air, making it easier than ever to capture and share the world from new perspectives," Pan added.
Aside from being user-friendly, DJI's drones are also known for being small and lightweight.
Wired magazine wrote on Wednesday: "Isn't DJI's new drone just the cutest little thing? A one-pound drone just seven or eight inches across is something you can toss into your backpack without a second thought."
"By far the coolest Spark feature is its gesture-controlled flight mode, allowing you to send the drone overhead to take an aerial photo of you and your buds with just simple hand movements."
DJI claims to account for 70 percent of the global consumer drone market.
According to The Economist, the company is at the forefront of the civilian-drone industry. "A Chinese firm has taken the lead in a promising market," it wrote in 2015, comparing DJI to what Boeing Co did with commercial airliners in the 1930s.
"DJI is today leading the charge in transforming civilian-drone manufacturing from something for hobbyists into a proper business," the magazine wrote.
The founder of DJI, Wang Tao created the world's leading drone company from his hobby, launching DJI from his dorm at Hong Kong University of Science & Technology in 2006 when he was 26.
Aside from its success in the global consumer drone market, DJI is also devoting attention to industry-level drones, according to an earlier report in China Daily.
In November 2016, DJI launched an upgraded agricultural drone, the MG-1S, which is equipped with an advanced flight control system, radar and sensors.
Last month, DJI and Qianxun Spatial Intelligence Inc, a company that uses China's homegrown Beidou navigation satellite system for location and data analysis, announced a strategic partnership to promote the application of the navigation system in the drone industry.