Xiaomi doubles smartphone bet on India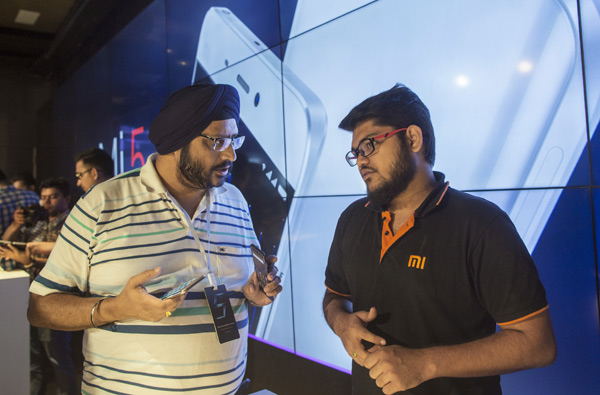 An attendee (left) speaks to a representative at the launch of the Xiaomi Corp MI 5 smartphone in New Delhi. Foxconn Technology Group began assembling Xiaomi's first made-in-India smartphone from a new plant in the country. BLOOMBERG
Co-founder Lei Jun pledges another $500m investment in next few years
NEW DELHI-The worst may be over for Xiaomi Corp, as the Chinese smartphone vendor steps up efforts to expand presence in India, the world's fastest-growing major smartphone market.
The move is in line with Made in China 2025 initiative, a strategy designed to promote high-end manufacturing and motivate Chinese players to venture into overseas market.
Xiaomi, once compared with Apple Inc, has resumed growth and global revenue should surpass $15 billion this year as an expensive gamble on India pays off, billionaire co-founder Lei Jun said.
After spending $500 million in the subcontinent since its debut two years ago, he pledged another investment of that size over the next three to five years.
Xiaomi's had a challenging few years but its business is once again expanding at a healthy clip, Lei said in an interview.
He expects to double revenue in India this year to $2 billion. Beyond hardware, the company chalked up $1 billion in revenue in 2016 via the 10 million-plus active users of its suite of mobile apps and services, he added.
Lei is betting India holds the key to rejuvenating Xiaomi, a brand that once ruled the roost in China but has since been eclipsed by local rivals.
"We faced many challenges. Many negative reports about us," Lei, flanked by a bevy of subordinates, said through a translator at Xiaomi's offices in the suburbs of Bangalore.
"But it was never as bad as it was made out to be. We have gone back to healthy growth. We will resume rapid growth in the next two years."
India is attracting foreign players as global demand for mobile devices stagnates. Xiaomi, valued at $45 billion in 2014, is among a clutch of Chinese smartphone makers that have pushed aside local vendors such as Micromax Informatics Ltd by hawking cheap yet dependable devices.
Lei's company ranked behind Samsung Electronics Co in Indian market shipments last year, though Chinese peers such as Oppo aren't far behind.
Neil Shah, research director at Counterpoint Technology Market Research, said Xiaomi is among Chinese brands that raced to capture a combined 46 percent of the total smartphone shipment in India in the fourth quarter of 2016, up from 14 percent a year ago.
"Xiaomi is dominating online sales channel in India with sub-$150 phones, similar to the market segment it won in China when it was at its peak.
The country is Xiaomi's most important overseas market, a springboard for its long-envisioned global expansion. It's now getting behind Prime Minister Narendra Modi's "Make in India" initiative.
Xiaomi joins a growing list of foreign names, from Huawei to Lenovo, putting their phones together in the country. For now, that mainly consists of assembling semi-knocked-down phone kits rather than the end-to-end manufacturing China's known for.
Xiaomi has built a second manufacturing plant with partner Foxconn Technology Group in Andhra Pradesh state-it says it can crank out one smartphone per second. The company will create 20,000 jobs over the next three years, Lei said during an economic forum in New Delhi in March. The billionaire is already talking of a third India plant to sate demand.
"In the next two years we want more and more influence in India," Lei said. "We want to take more risks in India. But we want to take controlled risks."
That includes boosting production closer to projected demand, moving away from its traditional reliance on flash sales to maintain scarcity.