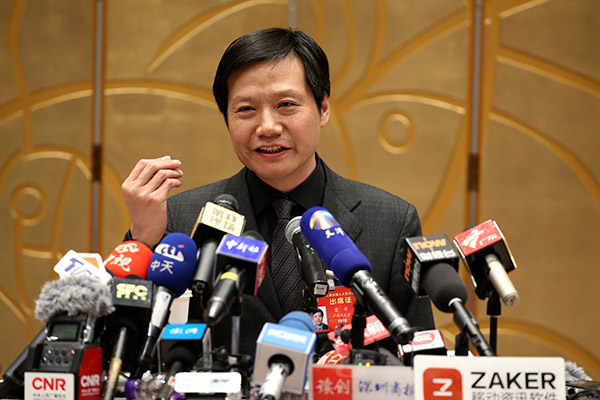 Lei Jun, CEO of Xiaomi Corp, talks about his company's retail plan at a conference in Beijing on March 6, 2017. [Photo/China Daily]
BEIJING - China's "Internet Plus" model could help enterprises in emerging countries stand out in market competition, according to head of China's tech giant Xiaomi.
Companies able to offer the best products at the most affordable prices will emerge as market leaders, Lei Jun, founder and CEO of Xiaomi, said at the Global Business Summit in New Delhi on Monday, according to the company's press release.
China's "Internet Plus" action plan was unveiled in 2015. It proposed a new economic development model based on the integration of the internet with traditional sectors to improve products, service quality and efficiency.
Xiaomi was one of the earliest companies to apply the "Internet Plus" approach to improve its business model with innovative technologies, cutting edge products and efficient operations, according to Lei.
The smart device manufacturer started with organic, word-of-mouth marketing to accumulate a customer base and improved their products based on user feedback, while the internet, e-commerce in particular, helped remove the middlemen to price products close to cost.
"I believe that the power and unstoppable influence of the internet means information asymmetry will sooner or later come to an end," Lei said.
Xiaomi's presence in India is testament to the success of the "Internet Plus" model. In India, Xiaomi is now the top selling smartphone brand online and the second largest smartphone brand in India in Q4 2016, with annual revenue of over $1 billion for 2016.
Xiaomi opened its first overseas factory in India in 2015 and another one followed this year. More than 95 percent of Xiaomi's smartphones sold in India are now manufactured locally, creating over 7,500 jobs in India.
Lei said his company will create 20,000 jobs in India within three years.
To apply the "Internet Plus" model, Lei suggested enterprises in emerging markets should remain committed to innovation, focus on user experience and never sacrifice quality or efficiency.
"I believe that in the next decade or so products that enable lifestyle changes and offer more choices will rule the marketplace," Lei said.
Xiaomi launched its own chip, the Surge S1, last month, the fourth company in the world capable of producing both smartphones and chips, after Apple, Samsung, and Huawei.
The tech firm set up an "Explorer's Lab" last year to research artificial intelligence and will release an "exciting AI product" in the next six months, according to Lei.
"Companies in emerging markets need to offer their consumers a compelling vision so that they not only solve problems today, but even address problems on the horizon," Lei added.