China Daily partners with EHang on drone journalism
Li Zhiyuan (third left), director at the strategic cooperation division of EHang Inc, and Li Xin (fourth left), deputy editor-in-chief of China Daily website, pose for a group picture with representatives from the two contracting parties during a signing ceremony of their strategic cooperation agreement held on December 7, 2016 in Beijing. [Wang Yuxi/chinadaily.com.cn]
China Daily website (chinadaily.com.cn) has joined forces with a drone maker to improve digital news coverage.
The website and domestic drone company EHang Inc signed a collaboration agreement on Wednesday, which will see reporters given training on unmanned aerial vehicles (UAV) photography.
The workshops will address the industry's development and the use of UAV in news reports and post-production.
"By co-operating with our premier partner in drone news coverage, we will seize the industrial trend driven by new technologies and improve our responsiveness, diversity and additional value during breaking news reports and cross-border communications around the globe," deputy editor Li Xin said.
EHang senior director Li Zhiyuan said the partnership would help enrich and diversify news coverage by providing aerial photography equipment with handy, safe and multiple fly patterns to reporters.
"Drones can also be used to reach the real scenes of stories," said Li.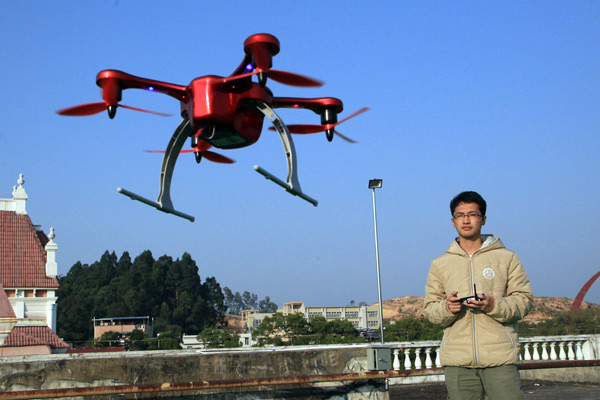 A technician from EHang Inc tests a drone. [Photo provided to China Daily]
Consumer drones are on the verge of becoming a new trend in the country, as the technology becomes more readily available and news outlets are willing to use drone journalism.
Media observers have noted that drones will make geographic coverage cheaper and more widespread, particularly when used to cover stories with large spatial applications, such as natural or man-made disasters.
Earlier this year, People's Daily Website and Xinhua News Agencies announced plans to jointly work with third-party hardware companies to establish strategies for UAV news reports.
A recent report by consulting company iResearch shows the civil drone in China is witnessing a market boom with the industry's worth to reach 75 billion yuan ($10.9 billion) by 2025.
Statistics from International Data Corporation show more than 300 domestic manufacturers produce civilian drones in Shenzhen, contributing seventy percent of the world's market share.
With about 300 employees led by a senior management team from 21Vianet Group, Microsoft, Lenovo and Foxconn, EHang is one of the frontrunners in the fiercely competitive market.
At the latest Consumer Electronics Show held in Las Vegas, the company unveiled what was being touted as the world's first drone capable of carrying a human passenger.
The drone can fly itself by having a passenger enter a destination into the drone system's accompanying smartphone app.
The company has also partnered with the Nevada Institute for Autonomous Systems (NIAS) and the Governor's Office of Economic Development (GOED) to develop test criteria to help EHang prove aircraft worthiness to the United States Federal Aviation Administration.
EHang's GhostDrone 2.0 products have been sold in over 70 countries.
China Daily website, launched in 1995, is China's first national English-language website. It has become a comprehensive multimedia outlet and is now one of China's most influential English-language web portals.
The website provides 24-hour authoritative information on China through multiple sub-channels.