Baidu maps out global expansion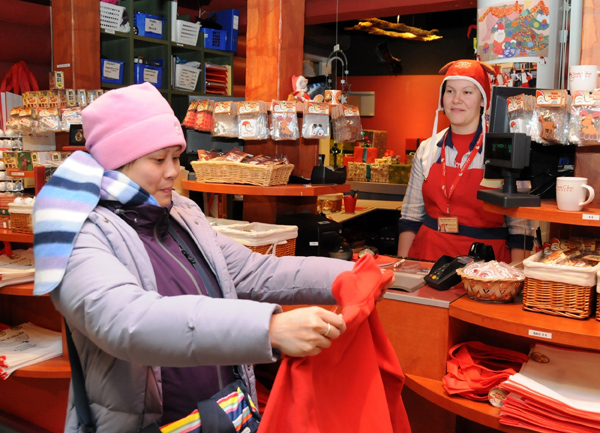 A Chinese visitor buys Santa Claus gifts in Rovaniemi, Finland. Baidu Map is expanding into Nordic countries to help Chinese travelers. ZHAO CHANGCHUN / XINHUA
Baidu Map, a desktop and mobile map service provided by China's online search giant Baidu Inc, is set to become a world mapping service provider covering more than 150 countries and regions.
On Wednesday, the company will launch its map services for more countries and regions. The new map services will cover countries in Asia, Europe, Africa, North America, South America and Oceania, and provide services for 99 percent of the world population.
"This signals that we will finally transform from a Chinese map provider to a world map provider and become the Chinese brand that provides global services for mobile travel applications," said Li Dongmin, general manager of Baidu Map.
Currently, Baidu Map claims that it accounts for about 70 percent of domestic market share, with more than 300 million active monthly users and about 100 million car owners using its mapping service, according to the company.
At the beginning of the year, Baidu Map initiated its internationalization strategies and has been expanding rapidly globally.
On Monday, Baidu Map started strategic cooperation with the tourist administrations of four northern European countries-Denmark, Finland, Norway and Sweden. The two sides will exchange data, share resources, and jointly develop more events to improve the traveling experiences of Chinese visitors.
"The cooperation signals a further step forward in the localization of Baidu Map in the course of its internationalization, following our cooperation with the tourist administrations of South Korea and Thailand," Li said.
In the first half of 2016, Chinese people made 59.03 million trips abroad, up 4.3 percent year-on-year, according to the China National Tourism Administration.
Baidu Map said it has covered 25 percent of Chinese outbound tourists, and, by 2020, it aims that overseas users will account for half of its total users.
"We will strengthen in-depth cooperation with overseas governments and leading enterprises and choose some key countries to provide mapping services in local languages and increase our local impact," Li said.