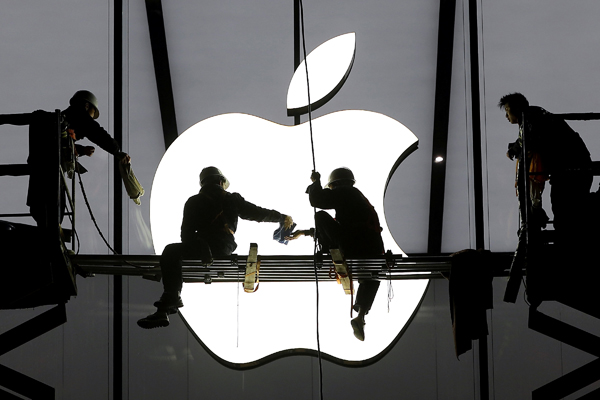 Workers prepare for the opening of an Apple store in Hangzhou, Zhejiang province. Photo / Agencies
EU antitrust regulators ordered Apple on Tuesday to pay up to 13 billion euros ($14.5 billion) in taxes plus interest to the Irish government after ruling that a special scheme to route profits through Ireland was illegal State aid.
The massive sum, 40 times bigger than the previous known demand by the European Commission to a company in such a case, could be reduced, the EU executive said in a statement, if other countries sought more tax themselves from the US tech giant.
Apple paid tax rates on European profits on sales of its iPhone and other devices and services of between just 0.005 percent in 2014 and 1 percent in 2003, the commission said.
"Ireland granted illegal tax benefits to Apple, which enabled it to pay substantially less tax than other businesses over many years," said Competition Commission Margrethe Vestager, whose crackdown on mainly US multinationals has angered Washington which accuses Brussels of protectionism.
Apple said it would appeal against the EU ruling.
"Apple follows the law and pays all of the taxes we owe wherever we operate. We will appeal and we are confident the decision will be overturned," the company said in a statement on Tuesday after the European Commission's decision.
"The Commission's case is not about how much Apple pays in taxes, it's about which government collects the money. It will have a profound and harmful effect on investment and job creation in Europe," Apple said.
Online retailer Amazon.com Inc and hamburger group McDonald's Corp face probes over taxes in Luxembourg, while coffee chain Starbucks Corp has been ordered to pay up to 30 million euros to the Dutch state.
Reuters