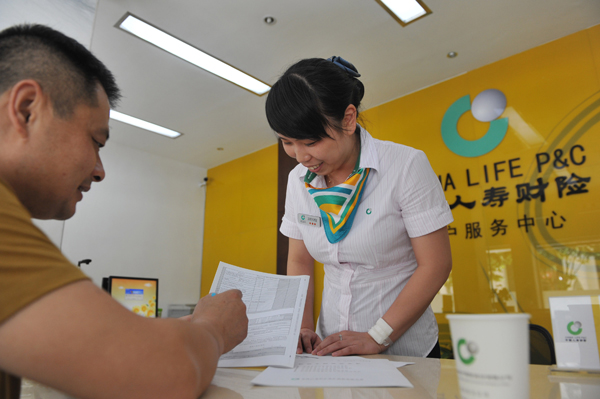 A customer seeks information at China Life Insurance Co Ltd's branch in Lin'an, Zhejiang province. HU JIANHUAN / FOR CHINA DAILY
Zhang Shuo, a Beijing-based agent of China Life Insurance Co Ltd, is concerned that customers are flocking to Hong Kong to buy insurance products.
"My business has been negatively affected as many of my high-end clients favor insurance products of Hong Kong," said Zhang. "They want to allocate their funds globally. They find insurance products of Hong Kong are more diversified and appealing."
Zhang said one of his clients just bought a medical insurance policy in Hong Kong that entails $50,000 in premium every year for five years. It is different from products available in the mainland, and covers imported drugs and overseas hospitals.
"When my clients ask for Hong Kong insurance, what I do is to warn them about the risks," said Zhang.
He is not the only mainland insurance agent getting hot under the collar. Many of his ilk are aware that mainland visitors bought insurance premiums worth HK$31.6 billion ($4.1 billion) in 2015, accounting for 24.2 percent of new premiums in Hong Kong last year.
Those tell-tale figures from the Hong Kong Office of the Commissioner of Insurance have a footnote: Mainlanders had spent only HK$4.4 billion on insurance in 2010, suggesting a sudden spike in recent years.
"Besides the desire to have global asset allocations, what attracts mainland buyers to Hong Kong insurance are factors like product design advantages and the local regulator's transparent information disclosure norms," said Hao Yansu, director of the School of Insurance at the Central University of Finance and Economics in Beijing.
Hao said mainland insurance companies should improve business capabilities and go global, set up overseas branches and cooperate with hospitals outside China.
High-end customers usually travel around the world and many of them have children studying abroad, so medical insurance abroad can be very necessary for them, he said.
It is also important to recruit professional talent and pay them well so customers are better served, said Hao.
According to Hao, mainland insurers should be made to disclose information on overseas hospitals with whom they may have cooperation agreements. That would help customers to choose suitable products, which could boost insurers' business as well.
"But mainland insurance companies don't need to worry much as the mainland business that's going to Hong Kong is still a small part of the domestic business," said Hao.
In the first half of the year, insurers' revenue from premiums grew to 1.9 trillion yuan ($285 billion), up 37 percent year-on-year, according to the China Insurance Regulatory Commission.