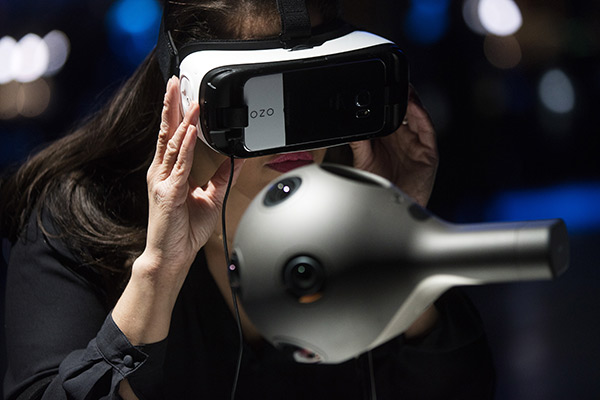 An employee uses a Samsung Gear VR virtual reality headset to demonstrate the OZO, a virtual reality camera manufactured by Nokia Technologies, at the European launch in London. [Photo/Agencies]
Nokia Technologies launched its state-of-the-art virtual reality camera called OZOin the Chinese market as a springboard for the Finnish technology group to grab opportunities brought by expanding demand from Chinese consumers for VR hardware and contents.
OZO, an eight-lens virtual reality camera for professional content creators, will be commercially available through Nokia agents in China in September, with shipments expected in October.
Paul Melin, vice-president of digital media and technology licensing at Nokia, said on Thursday he saw tremendous potential for the virtual reality camera amid China's surging use of telecast content.
OZOis priced at $45,000 in the United States and 40,000 euros ($45,380) in the European Union nations, with equivalent pricing anticipated in China, the company said. Previously it was priced at $60,000.
Nokia also announced a partnership with LeVR, the VR division of LeEco, one of the biggest online video companies in China, to distribute OZO content.
LeVR said it intends to deploy OZO VR solutions on its platform.
Melin said OZO was in effect part of the infrastructure for VR content creation, and added that his company was also looking at opportunities to enable more users to understand a wide range of applications for the VR camera.
Targeting professional users such as film production teams, live-streaming platforms and sports or entertainment program production casts, Nokia will also introduce a licensed leasing model that will enable users to "borrow" instead of purchase OZO in the Chinese market through its retail networks, Melin added.
According to the latest research report released by the China Electronics Standardization Institute and Xinhua News Agency, the VR market in China was worth 1.54 billion yuan ($236 million) in 2015 and is expected to rise to more than 5 billion yuan in 2016. The report estimated that about 1.5 million sets of VR hardware will be sold in China by the end of this year.
Market insiders said they see increasing commercial applications for VR technology, such as filming real estate commercials that enable homebuyers to "experience" apartments before the property is even completed.
Other applications include creating video memos for occasions such as opening ceremonies, which insiders believe will be popular for use in birthdays and weddings once prices go down.
"It is great to see VR hardware becoming more than just a gaming tool," said Zhou Yukai, 47-year-old owner of a photography studio in Shanghai.
"But I don't think consumers who wish to experience making films with VR cameras will wait too long, because I believe that products targeting mass users may soon be introduced, just like DVDs and Single Lens Reflex cameras in previous years."