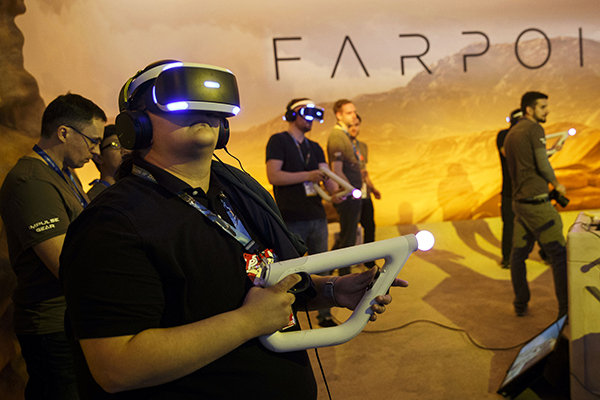 Attendees use Sony PlayStation VR Aim Controllers to play Far-point during an expo in Los Angeles, California. [Photo/Agencies]
Chinese consumers can start ordering PlayStation VR headsets on Thursday as the Japanese tech giant Sony Corp moves quickly to enter the Chinese virtual reality market, which is expected to buy 40 percent of global VR devices in 2016.
Though months later than its archrival HTC Corp in shipping VR devices, PlayStation VR's low price will give Sony an upper hand meeting Chinese consumers' growing demand for an immersive gaming experience, analysts said.
The device will be priced from 2,999 yuan ($450), about $500 less than HTC Vive in China, which hit the streets in April. It will be formally released in China in October, but is already open for pre-orders at both online shopping sites as well as 22 bricks-and-mortar stores across the country.
Sony said 23 VR games, including seven by Chinese developers, will be released after they gain approval from the regulators.
The Japanese company is wrestling with HTC and Facebook Inc's Oculus Rift in the race for the control of the nascent global VR market.
But, the competition will be more intense in China where local players such as LeEco and Huawei Technologies Co Ltd are also scrambling for a presence with their smartphone-based VR devices.
In April, Oculus Rift also reportedly said it would kick off a VR online store in the country as soon as this year.
Technology consultancy Canalys estimates that total shipments of VR headsets will reach 6.3 million units by the end of this year, of which 40 percent will go to Chinese consumers.
Zhao Ziming, an analyst at Beijing-based Analysys International, said unlike HTC's VR, which could only work when connected to a high-end computer, Sony's VR is designed to work along with its PlayStation gaming device, which already has a large user base in China.
"The lower price will give Sony a big edge and the loyal users of PlayStations are highly likely to buy the new gadget. But, in the future, efforts are needed to catch up with HTC in giving consumers a more hands-on experience."
HTC said in July it would set up more than 10,000 VR experience sites in China by the end of the year.
Liu Zheng contributed to this story.