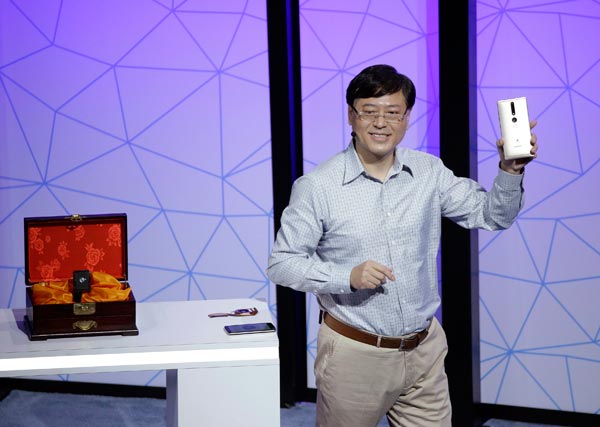 Lenovo Chairman and CEO Yang Yuanqing holds up the new Phab2 Pro phone during the keynote address at the Lenovo Tech World event in San Francisco.[Photo/Agencies]
Lenovo's Moto Z joining Samsung's model to head off new iPhone release
China's high-end smartphone market is expected to see a fierce battle in the fall as technology giants Lenovo Group Ltd and Samsung Electronics Co Ltd line up to release their latest devices to compete with new iPhones, due to come out later this year.
The Chinese edition of Lenovo's Phab2 Pro, the world's first smartphone to host argumented reality applications without the need of other accessories, has been spotted on the website of China's industry regulator, indicating that it will soon be launched in the country.
The new device, first unveiled in June, is based on Google Inc's Tango project and can host AR applications such as playing virtual dominoes on a physical table and shooting digital robots that inhabit users' living rooms, just like the popular Pokemon Go game.
Lenovo declined to disclose when it will release Phab2 Pro in its home market. But photos on the website of the Ministry of Industry and Information Technology show that the new device will be equipped with three rear cameras and one front camera.
A source familiar with Lenovo's mobile business told China Daily that the Beijing-based firm will release its Moto Z modular handset in its home market at the end of September, as part of efforts to revive its faltering handset sales with highly differentiated products.
Moto Z has high-powered magnets on its rear with which users can fasten additional equipment, including extra battery power, speakers and projectors.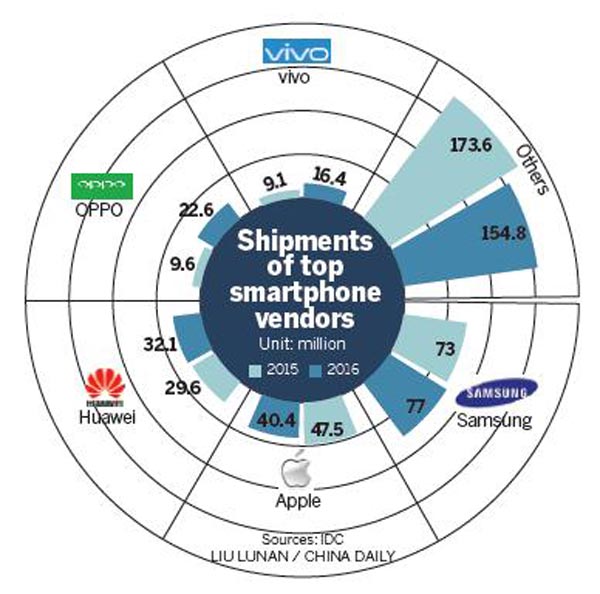 The news came shortly after Samsung on Tuesday launched the latest version of its large-screen Note 7 smartphone to maintain sales momentum.
James Yan, research director at Counterpoint Technology Market Research, said Moto Z and Phab2 pro can easily stand out in a crowded market where handsets look and work largely the same.
"Users in big Chinese cities will want to try them," Yan said. "But they would be a niche rather than a mass market because their features are too new and it will take a long time and resources to educate consumers in small cities."
"Also the Moto brand is, in fact, losing its appeal to Chinese consumers," he added.
Lenovo said earlier it would step up research and development and build more retail channels this year to regain the share it is losing to rivals Apple Inc and local player Huawei Technologies Co Ltd.
Jin Di, research manager at the research firm International Data Corp China, said Lenovo and Samsung's new devices will have limited impact on the sales of Apple's new iPhone.
"Apple still dominates the premium market," Jin said.
"Though its China sales are in decline, its newly released products will remain popular thanks to its well-established brand image."