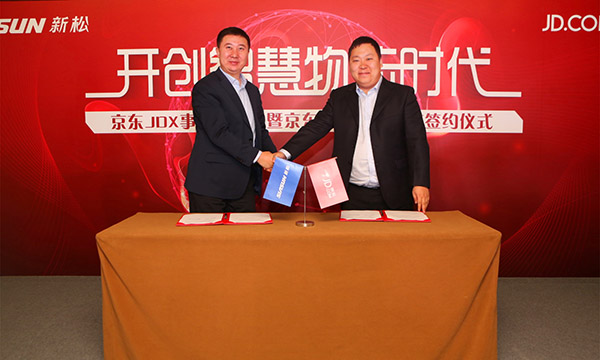 Xiao Jun (R), vice-president of JD.com, shakes hands with the representative from Siasun Robot & Automation Co Ltd after they signed a strategic partnership agreement on May 13, 2016. [Photo provided to chinadaily.com.cn]
Chinese e-commerce giant JD.com Inc is taking a new approach to intelligent logistics.
On Friday, the online retailer announced it is providing an open door for companies looking to step into the "smart" industry by signing a strategic partnership deal with a global leading Chinese robot maker, Siasun Robot & Automation Co Ltd.
The Nasdaq-traded retailer said the smart logistics system will be built on integrated smart applications. Robots and drones and the huge pool of data it gathered in the past two decades are to be used in efforts to speed up the company's sorting and delivering process. It will also be used to cut costs and bring better results to the last-mile distribution of remote areas.
Zhang Chen, CTO at JD.com, said the future of the logistics industry will not only be driven by the upgrade of equipment, but shaped by booming technologies.
"When it comes to the Internet of Things, cloud computing, big data, and artificial intelligence, it's still an unknown world. How well the smart system would fare will hinge on many factors, including the progress of R&D and the overall technological upgrade in the country," Zhang said.
So far, the company has built seven logistics centers operating 209 large-scale warehouses across the country. In 2015, online orders via JD.com surged to 1.26 billion, nearly double the number from the previous year. As much as 85 percent of online orders reached clients within two days.
Siasun, a listed tech company under the Chinese Academy of Sciences, has become the online retailer's first partner in the field of robotics to provide robotic solutions.
Their first solution for the JD.com partnership is to offer automated guided vehicles to warehouses.
Qu Daokui, president of Siasun, said the cooperation of the two companies is the start of a new era.
"New tech applications in the logistics industry such as robots and drones are game-changing, which will be a big push to the e-commerce development," said Qu.
According to Li Yan, secretary of China Association of Warehouses and Storage, China's social logistics cost stood at 11 trillion yuan ($1.69 trillion) last year, covering 1 billion sq m in total.
Xiao Jun, current vice-president of JD.com, will head the new JDX unit that is focused on using top-of-the-line technology to turn the logistics industry into a "smart" industry.
Xiao said the company is also setting up a logistics lab to test run technologies and applications coming out of the open smart platform.
"Besides robots and drones, we will develop driverless vehicles to help smooth the logistics process," Xiao said.