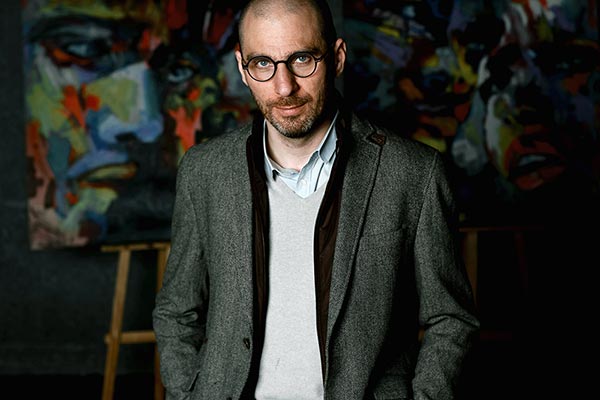 Vladislav Martynov, founder and chief executive officer of Yota Devices.[Provided to chinadaily.com.cn]
The cut-throat competition in Chinese smartphone market has never frightened newcomers, but for exotic startups, the journey of starting from scratch and raising funds for expansion is tough. But a Russian company has managed to surprise the market.
YotaPhone 2, a dual-screen smartphone manufactured by Yota Devices, started to ship in China last May. The company entered the market with a simple belief: Turning early adaptors to loyal followers was far more important than getting entangled in fighting for market share and shipment volume.
"China is the biggest market for YotaPhone 2, and more than half of our revenue should come from the nation," said Vladislav Martynov, founder and chief executive officer of Yota Devices.
One and a half years ago, before the China launch of the brand's flagship, Martynov met with about 20 Chinese investors and funding institutions who would go on to show interest in supporting the distribution of YotaPhone in the country.
By knowing more about the brand and the Russian technology startup, investors' appetite is growing.
Rex Global Entertainment Holdings Ltd, a Hong Kong-listed company, announced on April 22 its plan to purchase 30 percent stake of Yota Devices.
How it all began
The story of YotaPhone started in 2010 when Martynov, the Russian IT businessman who used to be a vice-president at Microsoft headquarters, was bored and looking for a new interesting project.
He received a proposal from an old friend, Denis Sverdlov, to invent and design the first Russian smartphone.
According to the company, at that time, nobody in Russia was able to build from the scratch not only just a smartphone, but a truly innovative one.
The next six months were spent finding a suitable idea for the new smartphone, for which Martynov was supposed to develop a detailed plan on how to build a global business based on this product idea.
Among dozens of options discussed inside the team for the future gadget, it was decided to choose both the most interesting and the most complicated in implementation -- the smartphone with the second screen designed on the basis of electronic ink technology.
This solution provided an opportunity to have a device with a screen that is always active and shows the content required by the customer or the most frequently updated information.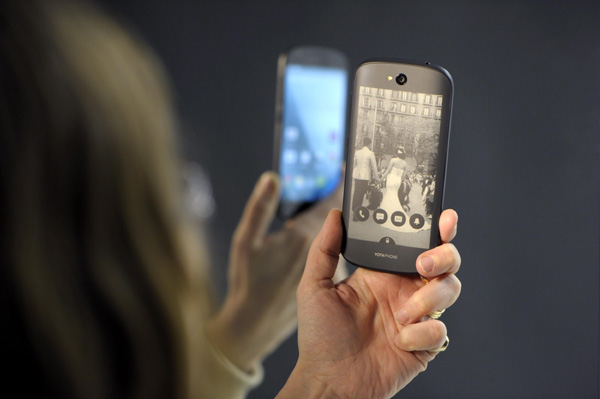 The Yota Phone 2, a double screen Android-based smartphone, is pictured in Helsinki January 29, 2015. [Photo/Agencies]
To create the smartphone from a green field, establishing its production and build international sales, Martynov found investors to provided $30 million to the team in order to start the project and make YotaPhone1.
The most important task was to build a team of software and hardware engineers who could design and develop quite unique and innovative devices, and seeking experience software team in Moscow was relatively easy while to find experts in hardware was a real challenge.
Quite by accident -- Martynov admitted that he does not remember who gave him the piece of advice – he decided to search for specialists in small Finnish town Ulu, where Nokia had one of its research centers. Before this, Martynov searched specialists in large cities of Finland and Canada.
He went to Ulu and on the evening of his arrival, he went to a local café to have dinner. While planning meetings for the next day, he listened to the conversation at the next table. There were seven Finns, discussing Microsoft, the destiny of Nokia and their job positions there.
As it turned out, it was the local research team of Nokia in full force – seven persons, each was a very high level expert in his field, from ID-design to antenna development. They refused Microsoft's offer to move on to the US, which resulted in their dismissal from Nokia.
The next day all of them became Yota employees, they liked the idea of creating something that no one else had – a smartphone with two screens.
These seven Finns, who still live and work in Ulu, remain the backbone of the team that together with Vlad to prepar YotaPhone 3 for the Chinese market.
It was a success, but not the most important one, as Martynov's colleagues admit.
They had to negotiate with suppliers of components. The smartphone would not have happened without Qualcomm chipsets, "e-INK" electronic ink screens and Samsung main screens.
It was vital to the project to become partners with all three companies and Martynov somehow within about a year succeeded to catch their interest in collaborating with an unknown manufacturer startup from Russia.
He shifted to Singapore for six months to personally work all the details of gadget assembling process when it was critical to start production of the second YotaPhone version in due time.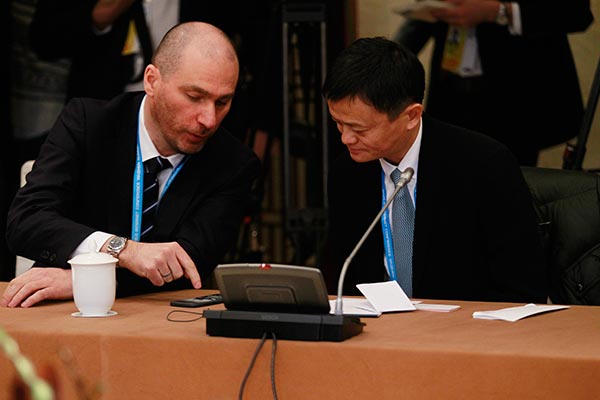 CEO of YotaPhone Devices Vladislav Martynov (left) with founder of China's Alibaba Group Jack Ma (right) at a round-table discussion of Chinese and Russian enterprises in Wuzhen, East China's Zhejiang province, Dec 16, 2015. [Zhu Xingxin/China Daily]
Finally, he was in person involved in the negotiations with major operators and distributors, building personal relationships with key suppliers of components, developing the advertising campaign.
According to Martynov, the company started to prepare for expansion in China a few months before Russian President Vladimir Putin visited China and presented a YotaPhone 2 to President Xi Jinping as a state gift in November 2014.
At the beginning, he started the business development by hiring a Hong Kong-based talent who understood the Chinese market and was able to formulate business plans.
Then the company decided to localize the product, so that YotaPhone would be available for the Long-Term Evolution (LTE) band in China, and partnered with Chinese content providers to produce Chinese applications available on the second screen.
"We changed user interface (UI) and user experience (UX) designs for the E-ink display to make it more user-friendly for Chinese consumers," said Martynov. "By entering a new market with a completely new device, we decided to pick up one or two provinces to sell a small quantity of products to test market feedbacks well as gradually adding our online channel partners."
According to Martynov, before spending money on marketing or distribution activities, the company had to understand the market first, and he believed that the best way to fast understand the market was to do a soft launch.
Then they started to look for distributors and sales channel partners, such as JD.com and Tmall.com. Eventually the company picked up one relatively small company called JieLan Ltd, which is based in Hangzhou, and has a strong relationship with China Unicom in a certain provinces and regions, particularly in Hangzhou.
Some small retailers from Shanghai, Beijing and Shenzhen, who sell consumer electronics products in physical stores, approached them and asked for permission to sell the device.
The company responded positively and Martynov said that among the entire supply of the devices sold in China, some are contributed by the small retailers.
What to expect from Yota Phone 3
Due to technology limitations, by comparing with the LED or OLED display that being used in most of the smartphones hit on the market, the second screen display is noticeably slower than the front one.
Martynov explained that it is the reason YotaPhone presents two displays in one device. In some cases, when the user needs speed, they shift to the main screen.
"In the next version of YotaPhone, the performance of the E-ink display will be improved, and will not be substantially better but a certain percent faster than the previous generation," Martynov said.
In addition, by making assessments of the technology and business potential, the company has been talking with several operating system (OS) providers, including Alibaba, to discuss the future possibility to make customized Android system for the future phones.
"There is no specific plan at the moment as business cases that are beneficial for both sides should understand before the company makes a decision to invest in this," Martynov said. "We will minimally customize the system in a certain number of specific target areas where we believe the native Android system is inconvenient for users, during the launch of the next generation before the New Year."
Wu Xiaofeng, an analyst with market research institute GfK China, pointed out that smartphone innovation has been driven by the demand of users' groups and the requirements are subdivided due to the differences in age, gender, occupation and personal preference.
"The differences between the user groups will have deep influence on the development of the consumer electronics devices," said Wu. "The first five years' development in the smartphone industry has been passively powered by hardware upgrades that follow Moore's Law, (which observed in 1965 by Gordon Moore, co-founder of Intel, claimed that over the history of computing hardware, the number of transistors in a dense integrated circuit has doubled approximately every two years) telecom carries' policy amendments and the boom of e-commerce."
The future mainstream consumers for smartphones will be 239 million young people who were born between 1995 and 2010.
According to Wu, the existing brands, including Smartisan, OnePlus and YotaPhone, that are sold in the Chinese market are some of the devices that represent the industry's R&D for feeding segment user's demands.
"YotaPhone currently targets a niche segment of the market. Thus, we do not expect shipments to be very high," said Xiaohan Tay, senior market analyst with consulting company IDC's Asia/Pacific Client Devices Group.
According to Tay, for brands such as Smartisan and OnePlus, as well as YotaPhone, it is becoming harder for them to compete with the bigger Chinese players who are more aggressive with good products and have been spending more on marketing.
"This brand is designed for people who want to be different and to become trend setters," Martynov said.
By likening the phone to the first generation of iPhones that launched eight years ago, Martynov said that "people wanted to buy iPhone because it was different and a product that seems like from the future".
The company's China team has risen to 40 people, with headquarters in Shenzhen and a subsidiary office in Beijing for business development, Martynov said.
This year, after closing the deal with Rex, the company plans to extend its design and development teams, such as hiring a UI designer and software engineers in China.