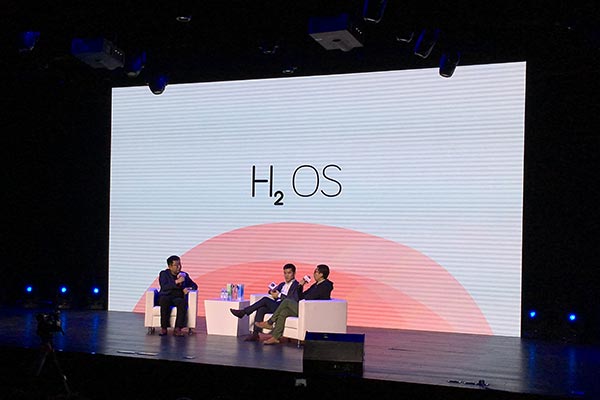 OnePlus launches new Hydrogen OS based on Android 6.0 in Beijing on April 7, 2016. [Liu Zheng/chinadaily.com.cn]
Smartphone manufacturer plans to customize the operating system (OS) based on latest Android 6.0 (Marshmallow) to lure more global Android users in local markets.
"We are eager to merge our concurrent two systems (Hydrogen OS and Oxygen OS) running separately in our phones shipped in China and overseas markets," said Pete Lau, founder and CEO of OnePlus.
Setting Apple's iOS system as an example, he claims that a good system has no boundaries; it should provide services to users worldwide.
According to Lau, during the brand's expansion process in India they realized that focusing too much on colors in their design language was not to Indians' tastes as they preferred Western style.
The company recently launched Hydrogen OS 1.4, an upgraded version of its Hydrogen OS that was introduced in last May, presenting a concise characteristic that is specifically designed for Chinese market.
A series of feature improvements have been made in the OS, by following Google's lasted visual design framework -- "Material Design", to feed the demands of Chinese users for Android Marshmallow, due to the inaccessibility of some of the Google's native applications in the country.
"Doze Mode, a battery energy-saving feature which was released with the latest Android Marshmallow in last October, will be customized in the new OS," said Zeng Xi, product manager of Hydrogen OS. "Most of the existing Android 6.0-based customization OS in domestic market are just focusing on kernel update."
Operating speed of some features have also been optimized, such as 1.39 times faster finger print unlocking function, 2.6 times faster for hang-up and an average 1.86 times faster upgrade of the start-up speed for most of the applications on the phone.
According to Zeng, for emergency calling function, the new Hydrogen OS has introduced GPS location, contacts of police stations and hospitals as the user makes the call.
According to the company, in the future, an unified OS kernel will be introduced globally while both the Hydrogen OS and Oxygen OS will remain to serve its consumers.
The new OS will add customization and user-friendly options, but will try not to get in the way of a native Android experience.
According to the company, shipment volume of OnePlus One, the first-generation phone of the brand, surpassed more than 1.5 million units as of the end of last October. The overseas pre-order volume of the existing flagship, the OnePlus Two, has reached 5 million.