Chinese smartphone maker Shenzhen OnePlus Technology Co Ltd launched its first independently designed mobile operating system named Hydrogen OS, or H₂OS, based on Android's Lollipop platform, in Beijing.
The new OS is different from the "flat design" and "quasi-physical design" that dominates iOS. It utilizes graphics, colors and motions to provide a user experience as light, simple and fast as "hydrogen".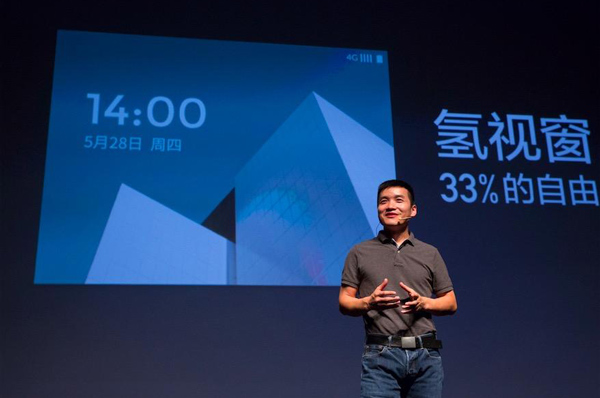 Pete Lau, founder and CEO of OnePlus, delivers a keynote speech on May 28 at the launch event of the company's "Hydrogen OS" custom ROM in Beijing. [Photo/Provided to chinadaily.com.cn]
"Standing on the shoulders of giants, we've built our own design based on Google's Android, unveiling a new lifestyle for our aspiring and active users," said Pete Lau, founder and CEO of OnePlus.
"The private beta version of Hydrogen OS will be released on our online forum to collect feedback," said Lau while declining to give a specific date for the public launch.
There are two ROMs built by OnePlus to compete with its rivals in domestic and overseas markets.
Apart from the "Hydrogen OS", the company also launched an international version of its own custom Android ROM named "Oxygen OS" in early April.
"Our goal for OxygenOS is to provide faster, more meaningful updates and a better-integrated range of services for every OnePlus user," Carl Pei, co-founder and head of global at OnePlus, said in an announcement on the brand's official blog. "We've implemented some important features thus far, but they are subtle and meaningful. That's our philosophy behind OxygenOS: keep it light and essential".
Since the volume of mobile phone texts sent by domestic users is rapidly decreasing as content service providers such as WeChat become more popular, the new OS has redesigned the layout and design of messages.
If a user receives a movie ticket booking text from an agency, the characters-only text will be transformed into a colored card, with both the booking information and cinema's location on it and also links to a navigation platform providing path-finding services.
Currently, the OnePlus One, the first smartphone introduced by the company last year, is shipped with third party CyanogenMod ROM in the overseas market and in China the phone is operated by OPPO's Color OS.
According to reports, the OnePlus 2 will be launched with the H₂OS, while so far, there's no public comment by the company.
Priced at 1,999.99 yuan (16GB) and 2,299.99 yuan (64GB), a new 5.5-inch smartphone named "OnePlus One" was launched at the end of April last year.
Given high specs and comparatively low prices, the brand has been sold directly online and shipped to emerging markets as well as western mature markets.