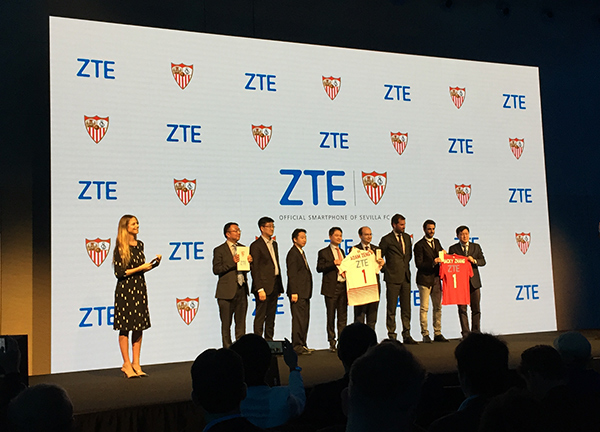 ZTE Mobile Devices and Sevilla Football Club exchange gifts after signing of a sponsorship deal in Barcelona, Spain, on Feb 21, 2016. [Liu Zheng/chinadaily.com.cn]
ZTE Mobile Devices announced the signing of a sponsorship deal with Sevilla, a Spanish soccer club, to serve as the club's "Official Technology Partner", in Barcelona, Spain, on Sunday.
According to the company, the sponsorship seals the deal for ZTE to be the official smartphone of the team.
"ZTE is proud to be the official technology partner of Sevilla soccer club, one of the greatest soccer teams known around the world," said Jacky Zhang, CEO of ZTE EMEA and APAC. "Sevilla FC and ZTE share the same vision and beliefs that brought us to where we are today: passion, creativity, dedication, talent, as well as imagination and beyond. We look forward to having even more sports fans become ZTE fans, to forge new legends for the mobile century."
With this agreement, both ZTE and Sevilla FC will hold several events throughout the season to engage with fans. Apart from advertising space in the stadium, Sevilla FC fans will also receive the latest information about ZTE products and participate in exclusive sweepstakes to win smartphones, tickets or merchandising from the team.
"On behalf of Seville FC, I am very pleased and honored to cooperate with one of the leading technology companies in the world," said Jose Castro Carmona, Chairman of Sevilla FC. "I am convinced that this partnership will be tremendously beneficial for both parties, for our fans and the consumers all over the world."
Before signing the soccer club sponsorship, ZTE has been embarking on a brand-awareness campaign through partnership with the National Basketball Association (NBA) as an official sponsor of five NBA teams: the Houston Rockets, the Golden State Warriors, the New York Knicks, the Cleveland Cavaliers and the Chicago Bulls.
ZTE has also announced its further products promotion initiatives that will kick off this year, such as the Z-Community platform will be introduced to new countries around the world. Announced at Consumer Electronic Show (CES) in January this year, this program establishes a forum for user feedback in order improve existing devices or for future product developments.
Following its popularity in the United States, ZTE has also made plans to bring a traveling roadshow to Europe where consumers can enjoy ZTE devices on an "Experience Bus" visiting cities throughout the region. It will kick off in Barcelona, and will pass through Germany, Poland, Italy and France. In a span of two months, it will travel across five countries and cover 15 cities.
On board the "Experience Bus", consumers will get to try out devices from Axon, Blade and Spro series and see how each of these can make an impact in their daily lives.