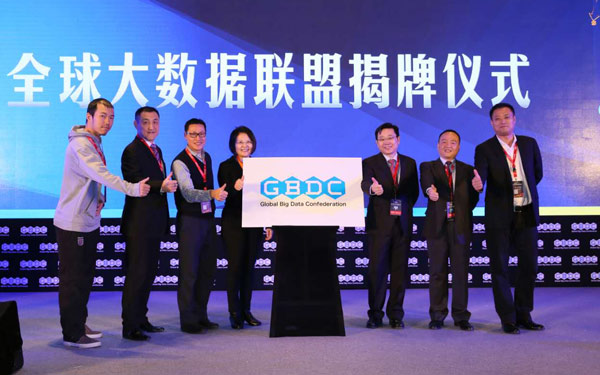 Attendees pose for a group picture with the logo of Global Big Data Confederation that unveiled during the inaugural ceremony held at the Global Big Data Conference in Beijing, Jan 20, 2016.[Photo/Provided to chinadaily.com.cn]
Feeling the pulse of the nation's Big Data development, a group of industry organizations and companies joined hands on Wednesday to unveil a confederation, aiming at utilizing the technology to explore new commercial values and industrial upgrade solutions.
"The rocketing growth of the mobile Internet has driven us into a new information-sharing era, and Big Data has become a new engine to power a lot of traditional industries," said Song Wei, who funds the Beijing-based Global Mobile Game Confederation (GMGC), and is one of the co-organizers of the new-established Big Data ally named Global Big Data Confederation (GBDC).
According to Song, the policies and guidance of Big Data usage from the nation's regulators have pushed the industry to develop further.
In early last year, the "Internet Plus" initiative, which was unveiled in the government's work report, aimed at integrating mobile Internet, cloud computing, big data and the Internet of Things with modern manufacturing, to encourage the healthy development of e-commerce, industrial networks, and Internet banking, and to help Internet companies increase their international presence.
An index report about the development of China's mobile Internet was also launched during the event.
According to the report, TalkingData Group Holding Ltd, a domestic cloud-computing driven consulting company, elaborated on statistical trends of mobile Internet users and worked out advertising strategies for enterprises.
"By analyzing the data relevance between online and offline, we'll have an insight into the preferences and habits of individuals, and that is important to provide data support for a company to operate precision marketing strategies," said Cui Xiaobo, CEO of TalkingData.
Wei Qing, chief technology officer of Microsoft China, Pan Yonghua, senior analyst at AliResearch, the research arm of Alibaba Group and Ji Yanyong, executive of the Information Management Development of IBM China Development Lab, were at the event and delivered speeches about Big Data that was relevant to their business.