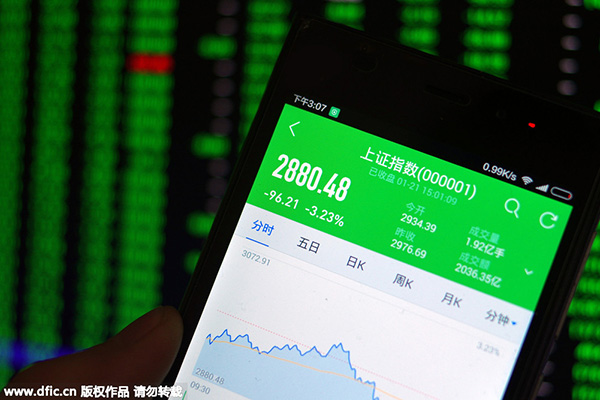 A stock indicator shows the benchmark Shanghai Composite Index on Jan 21, 2016. [Photo/IC]
Stocks plunged on Thursday despite the central bank's biggest cash injection in three years in the financial system.
The benchmark Shanghai Composite Index closed at 2,880.48, down 3.2 percent, while the Shenzhen Component Index slumped 3.8 percent to 9,975.97.
Mining, energy and brokerage firms led the loss, as Dongxing Securities, Western Securities, and Tibet Mining Co dived by the daily limit of 10 percent. CITIC Securities, Haitong Securities and Everbright Securities tumbled more than 4 percent.
The People's Bank of China said on Thursday it conducted 110 billion yuan ($16.7 billion) of seven-day reverse-repurchase agreements and 290 billion yuan of 28-day contracts, extending this week's total net injection to 315 billion yuan.
The Shanghai gauge has dived 18.6 percent so far this year, which makes it among the worst-performing global benchmark according to Bloomberg.
The plunge came as China unveiled its slowest GDP growth of 6.9 percent in 25 years in 2015, down from 7.3 percent in 2014, while the country's consumer inflation increased 1.4 percent, far below the government's 3-percent target.
Despite market volatility, securities regulator gave green-light to seven initial public offerings (IPOs) on Tuesday, which will receive share subscriptions under a less liquidity-consuming rule.
Under the new bidding system, advance payment before the announcement of allotment results is no longer required and investors can pay for their subscription if they get the lot.
The China Securities Regulatory Commission approved three firms - Eastern Pioneer Driving School Co, Southern Publishing & Media Group and Top Score Fashion Shoes Co - to list at the Shanghai Stock Exchange, according to a statement the regulator released on its website. Four others were permitted for an IPO in Shenzhen.
The CSI 300 Index, which tracks some of the largest-cap stocks in Shanghai and Shenzhen, closed down 2.9 percent on Thursday to 3,081.35.