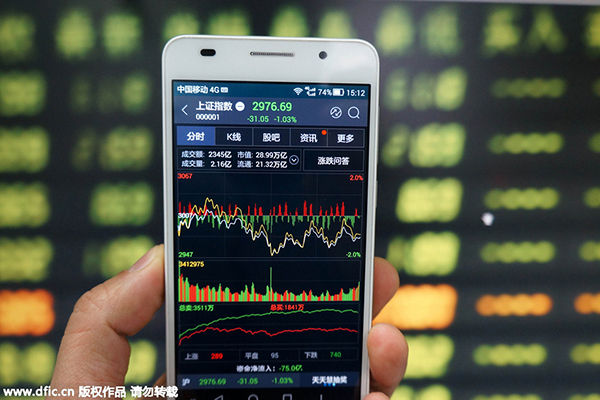 A stock indicator shows the benchmark Shanghai Composite Index on Jan 20, 2016. [Photo/IC]
Securities regulator gave green-light to seven initial public offerings (IPOs) on Tuesday despite market volatility, after the country introduced a new bidding rule for share subscription.
The China Securities Regulatory Commission (CSRC) approved three firms - Eastern Pioneer Driving School Co, Southern Publishing & Media Group and Top Score Fashion Shoes Co - to list at the Shanghai Stock Exchange, according to a statement the regulator released on its website. Four others were permitted for an IPO in Shenzhen.
The first batch of this year's IPOs will apply to the new bidding rule, under which advance payment before the announcement of allotment results is no longer required and investors can pay for their subscription if they get the lot.
The CSRC announced last month that it will cancel the upfront payment requirement this year. The rule has been blamed for accelerating liquidity strain, causing stock market plunge and rates hike at the money market.
Under the old rule, as much as 5.69 trillion yuan was once frozen for new share subscriptions during the peak time of IPOs in June last year, when the 25 companies only raised 41.4 billion yuan, reported China Business News.
The IPO permission comes as the A-share market remains volatile. The benchmark Shanghai Composite Index slumped 6.9 percent on the first trading day of the year and has plunged 15.9 percent since the year end as of Wednesday.
The seven companies, expected to raise around 4 billion yuan ($608.2 million) in total, will arrange the offerings before the Chinese New Year holiday in February, according to the statement.