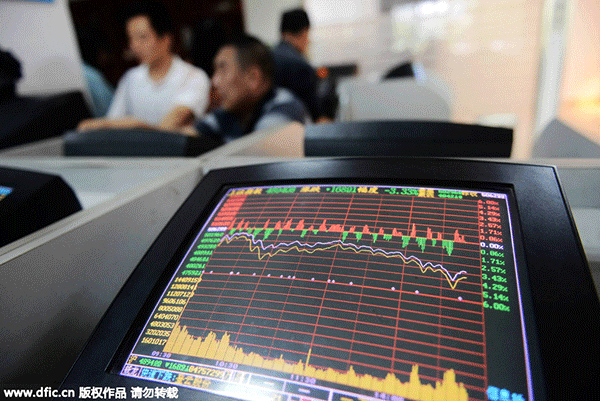 Investors at a securities brokerage in Qingdao city, Shandong province, Jun 16, 2015. [Photo/IC]

CSRC says risks are 'still controllable' as stock prices slump
The securities regulator said on Friday that the risks presented by margin trading and banks using stocks as collateral were controllable, as it moved to allay investor concerns over potential forced liquidations, triggered by the recent steep market slide.
The statement came after the benchmark Shanghai Composite Index tumbled another 3.5 percent to close at 2,900.97 points, its lowest level in 13 months.
The index has declined by 18 percent since the start of the year, moving closer to the 20 percent loss which is technically considered a bear market.
Also on Friday, a report suggested that some banks had already suspended their loans business to companies, which used small-cap stocks as collateral, to avoid further risk.
Deng Ge, a China Securities Regulatory Commission spokesman, said most investors had managed to meet their margin calls and replenish collateral levels to avoid forced liquidation.
"No forced liquidations by major shareholders that obtained bank loans using stock as collateral have taken place," Deng said at a news conference in Beijing, adding such risk is controllable and will likely have limited impact on the market.
By Thursday, the value of risky bank loans using stocks as collateral stood at 4.1 billion yuan ($622 million), accounting for about 0.6 percent of total loans, according to the CSRC.
The value of outstanding loans in the margin-trading business stood at 1.01 trillion yuan, with the value of loans considered risky accounting for 0.2 percent of the total, the regulator said.
Friday's decline, with the benchmark index sinking below the August's low during the summer market rout, stirred investor worries that the correction may be far from over.
"From the intense response we've received from investors, who still appear keen to pounce on Shanghai's falls, the market has yet to reach a state of revulsion," said Hong Hao, chief strategist at investment bank BOCOM International Holdings Ltd, in a research note.
"The close parallel with the Nasdaq bubble suggests the Chinese market can indeed fall further to 2,500 points," he said.
The continued slide in the A-share market was partly attributed to investor concerns over the volatility of the yuan, despite an evident government intervention in the offshore market to stabilize the currency.
"The yuan has to settle before we see stability returning to the equity market," Ronald Wan, chief executive at Partners Capital International in Hong Kong, was quoted by Bloomberg as saying.