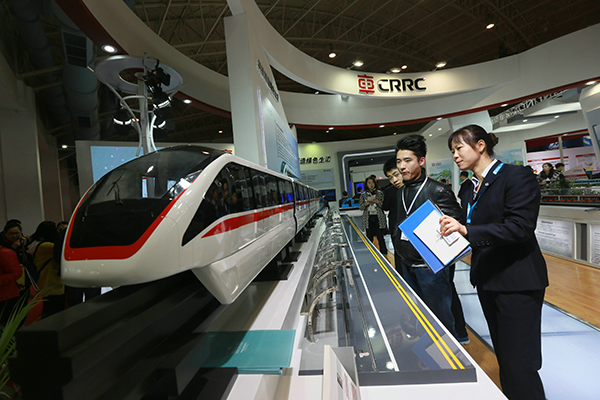 The CRRC Corp stand at the Metro China 2015 expo in Beijing. [Photo/China Daily]
As security issues become a concern for Chinese railway projects in Southeast Asian countries, China's railway expansion in the region will help improve local security capability by enhancing regional connectivity, an expert said.
Over the last two months, China's railway projects expanded quickly among ASEAN countries. After the China-Lao railway project's early December groundbreaking ceremony in Vientiane, it launched the China-Thailand railway projects ceremony in Ayutthaya two weeks later. The China-Indonesia railway project will start this week.
However, the recent terrorist attack in Jakarta, which left eight people dead, set off alarm bells in the region. Security issues become a potential challenge facing Chinese railway projects in the future.
While China's expanding its economic engagement with the world, the safety of Chinese citizens and Chinese projects also face challenges in places with major security concern. For instance, three executives from China Railway Construction Corporation were among the hostages killed in a terrorist attack in Bamako, Mali in November.
"It depends on the project's location and choice of country. Countries with weak security apparatus would encourage potential terrorists to attack," said Kavi Chongkittavorn, a senior fellow at the Institute of Strategic and International Studies at Chulalongkorn University in Thailand.
"ASEAN is facing polarization among its dialogue partners which will impact on its overall relationship, so ASEAN has to manage these relations," Chongkittavorn said.
"Connectivity will facilitate economic and people-to-people exchanges within ASEAN, and help with security cooperation and intelligence sharing in the matter of counter terrorism in the region. To face the existing and possibly increasing security challenges in Southeast Asia, it is pivotal to make sure that there are good cooperation among Chinese railway companies, both government officials and stakeholders at the ground levels. To maintain peace and security in the region ASEAN is required to deal with the threats in two ways covering the real-time, physical threat and the underlying condition that leads to the physical threat, Bangkok Post reported."
Kumar Ramakrishna, head of policy studies in the Office of the Executive Deputy Chairman, S Rajaratnam School of International Studies says,"Extremists, the Islamic State in particular, have successfully expanded their influence into Southeast Asia through several channels: ideology, existing terrorist groups in the region, returning IS fighters and those who have no previous organizational connection with the IS.
"Enhanced intelligence co-ordination is needed on terrorists' identities, movement, logistics and funding pipelines between and within governments in the region."
Following the deadly attacks in Indonesia, its neighbors including Malaysia and Singapore, have declared tightened security.
Malaysian police soon raised the alert to the "highest degree". Increased security measures are in place at public locations such as shopping malls and tourist spots. Extra precautionary actions will be implemented in border areas to prevent possible infiltration by terror elements.
The Immigration Bureau of Thailand is setting up special teams to examine passports at airports more thoroughly as the government seeks to increase efforts to tackle global terrorist threats and transnational crimes, a week after the attack in Jakarta.