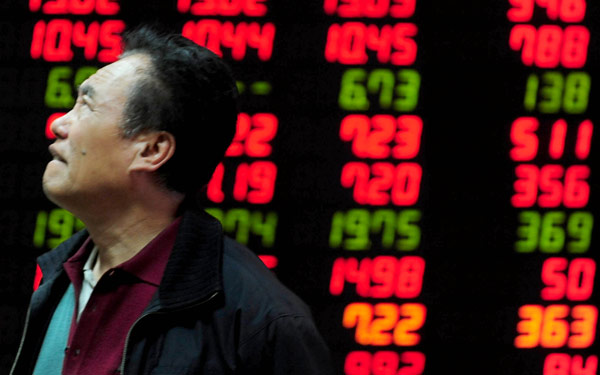 The suspension of the new circuit-breaker mechanism just four days after its launch shocked most of the A-share investors.[Photo/Provided to China Daily]
Many analysts expect further monetary easing, some moves on the currency front
Last week's stock-market volatility, attendant automatic triggering of the new circuit breakers and their subsequent suspension are expected to result in fresh measures by the authorities concerned this week, analysts said.
They expect further monetary easing and measures to stabilize the foreign exchange market, which, they said, would help investors to overcome anxiety.
Authorities surprised late Thursday by suspending the new circuit-breaker mechanism just four days after its launch, after key indices plunged 7 percent on successive days.
By Friday's close, it was clear the benchmark Shanghai Composite Index declined as much as 10 percent in the first week of the new year.
The market selloff that began early last week, had its roots in the expectation that large shareholders in index-linked companies will likely resume selling as soon as the six-month ban on such sales ended on Friday.
Ironically, the new circuit breakers, which limited the extent of market movement to 7 percent in the hope of tackling volatility, not only exacerbated the selloff but aggravated the liquidity crunch, analysts said. They underscored criticism in media that circuit breakers in advanced markets get triggered only if the movement is steep to the extent of 15 to 20 percent.
They further said that investors in the A-share market, in the hope of finding consolation, could consider taking a step back over the weekend to focus on this year's possible broader trend.
Wendy Liu, chief China strategist at Nomura Securities, said that the pace of US Federal Reserve's rate hikes and China's credit cycle would be two major drivers of the market this year.
Relief might come, but not until around March, if signs brighten by then that Nomura's forecast of two Fed rate hikes in June and December will likely come to pass, Liu said in a research note. The consensus forecast is for four Fed rate hikes this year.
"In China, its credit cycle will further unfold, as a key part of the supply-side reforms, which will likely lead to rising bank non-performing loans, various credit defaults and closure of 'zombie' companies, including some State-owned enterprises," Liu said. "While this may raise risk aversion, it is the very reform that the market has been waiting for."
Several analysts feel prompt government action on the foreign exchange front could help anchor investor anticipation for the value of the renminbi.
Last week, the Chinese currency weakened substantially to reach the lowest level since 2011, intensifying fears of capital flight from China. It is feared any such outflows would further destabilize the fragile stock market.