No letup in stocks retreat
Updated: 2016-01-06 08:12
By Emma Dai in Hong Kong(HK Edition)
| | | | | | | | | |
| --- | --- | --- | --- | --- | --- | --- | --- | --- |
|   | | Print | | Mail | | Large Medium  Small | 分享按钮 | 0 |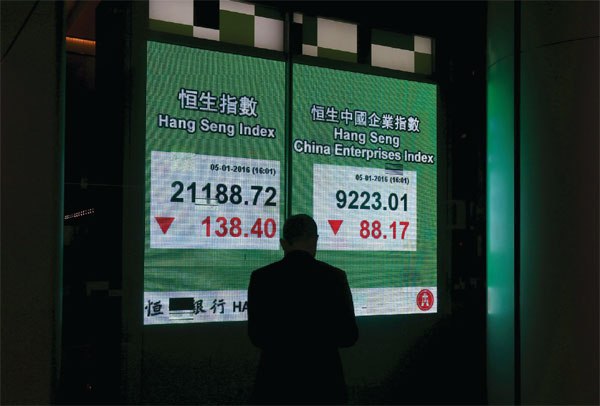 Given Hong Kong equities' worst New Year's Day performance in more than two decades and the continued depreciation of renminbi against the US dollar, experts warn that any sign of a price softening could lead to massive market volatility on the mainland which, in turn, will affect Hong Kong. Bobby Yip / Reuters
Investors failed to find any glimmer of hope for the local stock market to reverse Monday's steep slide, with the Hang Seng Index (HSI) continuing its descent in the face of mounting regional and global nervousness.
Locals stocks again headed south on Tuesday as the benchmark gauge swung between gains and losses before settling with a loss of 138.4 points at 21,188.72 after the previous day's 587-point tumble - the worst New Year's Day performance in more than two decades. The Hang Seng China Enterprises Index, which tracks the performance of H shares, gave up 0.95 percent to close at 9,223.01.
While authorities on the mainland were reported to have intervened after Monday's plunge on the two bourses that helped fuel a regional retreat, analysts remained worried about economic uncertainties. The CSI 300 Index - the mainland's benchmark tracking large caps - had dipped to as low as 3,377.28 at one stage, but regained lost ground to stand at 3,478.78 at the close, edging up 0.28 percent on Tuesday.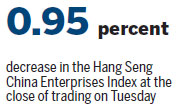 Citing unnamed sources, Bloomberg reported on Tuesday that State-controlled funds were buying blue chips to stop the index slumping further after having dived 7 percent on Monday, triggering the "circuit breaker" mechanism, which came into effect on Monday with the goal of thwarting any repetition of last year's stock market chaos.
Lu Wenjie, an H-share analyst at UBS Securities, thought that the weakening renminbi had a role in keeping global investors away from Hong Kong.
Investors are just waiting for the yuan to stabilize in the wake of its recent depreciation, he reckoned.
"It's not about how much the renminbi has declined against the US dollar, but the PBOC's (People's Bank of China) attitude. Investors need to know what the central bank's bottom line is. If the renminbi weakens substantially this year, earnings of Hong Kong-listed mainland companies would be dented due to the dollar peg."
"It's time for the PBOC to intervene and manage market expectations. It'll be too late if panic selling starts," Lu said, adding that UBS expects the renminbi to hit 6.8 yuan per US dollar by the end of the year.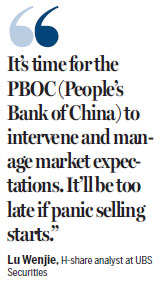 In the offshore market, the redback tumbled nearly 800 pips in the first two trading days of 2016 to 6.6495 yuan per US dollar at 6:12 pm on Tuesday. Since Dec 28, the offshore yuan has plummeted 1.64 percent, or 1,072 pips. The onshore market closed at 6.5199 on Tuesday, widening the cross-border spread to over 1,200 pips.
At the same time, a possible wave of share unloading by major shareholders could also lead to preemptive panic selling over fragile sentiment in the A-share market, said Hong Hao, managing director for research at BOCOM International.
Following last year's stock market rout, the China Securities Regulatory Commission (CSRC) imposed a six-month trading ban to stop shareholders holding more than 5-percent stakes in A-share companies selling their stakes. The moratorium expires on Friday.
"Traders are due to reduce their positions before the trading ban ends. Its impact could be more obvious for stocks in which ownerships are highly concentrated," Hong said.
"The unloading of major shareholders is critical," said Lu.
"A fundamental problem for A shares is their high valuation. The bubble is due to bust as PE (price-to-earning) ratios above 80 times cannot be sustainable. Any sign of a price softening could lead to massive market volatilities on the mainland which, in turn, will affect Hong Kong."
Lu said the CSRC needs to mitigate the impact as the trading ban ends. "There have to be some measures in place, such as restricting selling in the secondary market, organizing share unloading in multiple phases, and requiring long notice periods before selling."
The CSRC has said that details on managing share sales by major shareholders will be announced in a few days.
emmadai@chinadailyhk.com
(HK Edition 01/06/2016 page8)