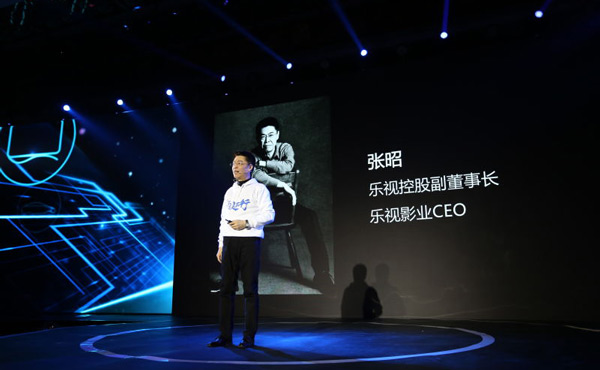 Zhang Zhao, CEO of Le Vision Pictures (Beijing) Co Ltd, delivers keynote speech on December 29, 2015 during the company's business strategy launch event held in Beijing. [Photo/Provided to chinadaily.com.cn]
Le Vision Pictures (Beijing) Co Ltd, an affiliate of LeTV, one of the nation's largest film production and distribution companies, announced on Tuesday that it plans to release 20 movies, 13 Sino-US coproduction films and 30 self-made Internet dramas this year, with the aim of seizing a piece of the country's video market share.
As one of China's largest private film companies, it also announced its development strategy for the next year in which it will continually convert audiences into subscribers and transform from a traditional movie company to an Internet company.
"Thanks to LeTV's 'seven screens plus one cloud' platform (a closed-loop online ecosystem built by LeTV branded hardware, such as smartphone, smart television, virtual reality headset and big screens and its own cloud service), the content that we own the intellectual property will all be integrated to be shown on a variety of devices to feed our users," said Zhang Zhao, CEO of Le VP.
According to statistics released by the State Administration of Press, Publication, Radio, Film and Television, the country's film industry regulator, as of December 3, China's national box office has surpassed 40 billion yuan, increasing nearly 35 percent year-on-year.
"The overall box office of China will reach 44 billion yuan in 2015," said Huang Ziyan, vice-president of Le VP. "It remains a promising market as explosive growth was witnessed in the industry."
In the recent two years, China's three largest Internet giants, Baidu, Tencent and Alibaba, have all raced into the movie industry.
By entering the fray with its competitors, "Le VP will enter into a new 'Internet ecosystem plus video' era to bring the limited big screens to the infinite online market," said Zhang.
In April, 2012, Zhang first pointed out the theory of "Internet movie".
In 2014, Zhang also expressed similar words during an interview with The Hollywood Reporter.
"Turn all the moviegoers into Internet video viewers -- that's what we are going to pursue for the next three or five years," said Zhang.
According to China Daily, the company recently partnered with Dark Horse Comics, which Zhang said introduces a "next-generation Internet IP" model that "opens up more opportunities across platforms and devices to leverage intellectual properties with global franchise potential".
Dark Horse Comics is expected to produce comics or animations of six popular Chinese online serial novels that Le VP USA has acquired.
The novels, which have garnered more than 400 million hits in China, including The Path to Immortality, The Descendants of Straw Mountain, Gods of China, The Naughty Queen, Magical Days, and Paranormal Activity Investigation Unit.
Zhang said the contents will be released on all LeTV's terminal platforms, including smartphones, tablets, televisions and virtual reality headsets.
China has the largest market and is a rich source of film stories, while Hollywood has the largest film-production resources, he said.
Le VP has aimed to create a platform for both China and the US, the world's two largest consumer markets, as the studio combines film-equity investments, Chinese distribution and global-production capabilities, said Zhang.
The company is currently in production for 13 Sino-US collaborative blockbusters.
One of them is The Great Wall, the highest-budget US-China coproduction film to date, directed by Zhang Yimou and starring Matt Damon, with Legendary East and Universal Pictures.
The company also announced its subscriber volume during the event.
With a more than 1.8 billion yuan revenue in the first three quarters, the overall subscribers who pay membership fees have surpassed 12.2 million.