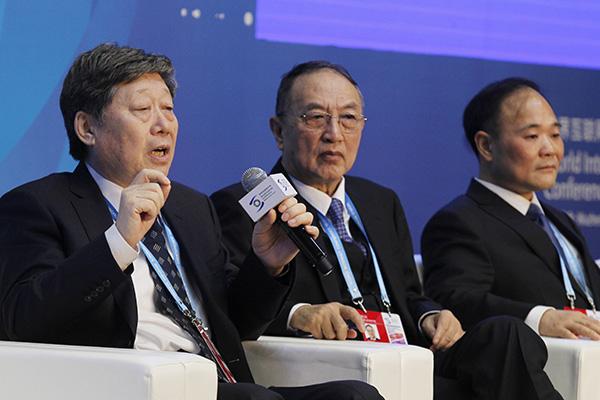 Zhang Ruimin (left), chairman and CEO of Haier Group, Liu Chuanzhi, founder and chairman of Lenovo, and Li Shufu, chairman of Zhejiang Geely Holding Group, attend a news conference on Thursday. [Photo/China Daily]
Internet technologies are vital for the transformation of traditional industries and addressing issues like structural reforms and overcapacity, experts said on Thursday.
Speaking at the ongoing World Internet Conference in Wuzhen, Zhejiang province, Zhang Ruimin, chairman of Haier Group, said in the long run, reforms will focus on tailor-made production, rather than large-scale production.
"There are no Internet companies in the real sense. Rather, what we have are firms that possess Internet technologies. Real Internet companies must be able to use user experiences for faster realization of goals. In fact, offline or even e-commerce channels are not required for satisfying consumer demands. What we need are Internet factories, or units without any fixed production lines, but flexible enough to cater to diverse demands," he said.
Web technologies have played an important role in the system and operational innovation of State-owned enterprises, according to Liu Liehong, president of China Electronics Corporation. The company has worked with some electronic platforms for distribution of electronic components and related technology solutions services. In a span of just two years, revenue from this business has surged to 10 billion yuan ($1.54 billion) and caters to over 1,000 small- and medium-sized enterprises.
"We are also seeking cooperation with leading Internet companies such as Tencent on a platform that can combine both online and offline services," he said.
Traditional car manufacturers have already shifted to an intelligent and interconnected era, said Li Shufu, chairman of Zhejiang Geely Holding Group. In the future, cars should be more like a mobile terminal, or in other words a platform that can make money as well as cater to payments, he said.
Though several leading Internet companies have rolled out self-driven cars, Li said that such models made by traditional car manufacturers do not share the same market orientation despite using the same technology.
"Internet companies can only make profits online. But for car manufacturers, profit does not lie in the Internet. We will be making money from by selling cars and through after-sales services," he said.