A forum on Internet innovation of the 2015 World Internet Conference in Wuzhen, Zhejiang province held on Dec 17 brought together business leaders and Internet industry officials to share views on a series of topics including the entrepreneurial spirit, technological innovation, the sustainable development of the capital market, the social economy and the enterprises.
Wu Hongbo, UN under-secretary-general for economic and social affairs, said the 2030 Agenda for Sustainable Development agreed by the UN recognized that the popularization of the Internet could narrow the information gap among different groups of people and accelerate overall social progress.
Today, the Internet economy is becoming a transformative force in promoting economic reform and innovation, Wu said. Some innovative tools, including e-commerce, search engines, instant messaging and Internet finance, are the driving forces of sustainable development, he said.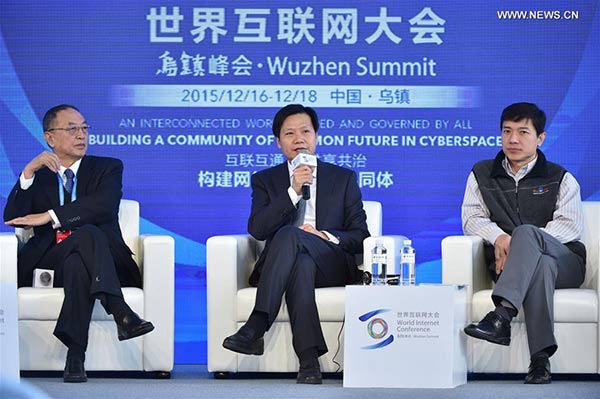 Lei Jun (C), founder of Xiaomi, speaks at a forum on Internet innovation of the 2015 World Internet Conference in Wuzhen, East China's Zhejiang Province, Dec 17, 2015. [Photo/Xinhua]