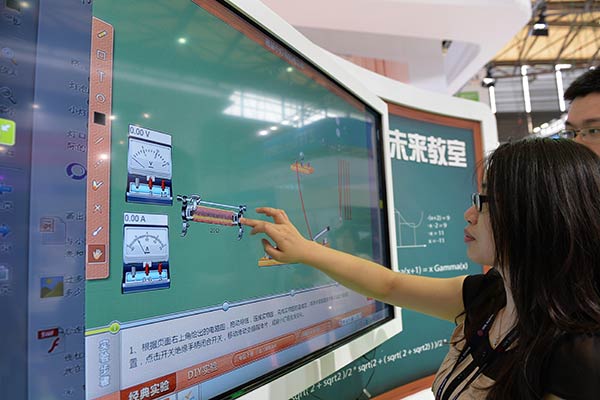 A visitor tries out a touch blackboard with 5G technology at a recent industry expo in Shanghai.[Photo/Xinhua]

Technological development needs to focus on global market, says ITU chief
China, the country with the largest online population, must persist with efforts to develop technologies for the global Internet and communications market, a top United Nations officials said.
Zhao Houlin, secretary-general of the International Telecommunication Union, told China Daily in an interview that China is already a driving force in several international efforts like 5G technology development and efforts to bridge the digital divide between the rich and the poor.
"Chinese companies and researchers should focus on global markets because it is much bigger than the local market," Zhao said. "China has to have a vision of developing technologies and business not only for China, but for the rest of the world."
Local industry leaders such as Huawei Technologies Co Ltd and ZTE Corp, are trying to export Internet and telecom services to overseas markets. The country is also seeking a bigger say over implementation of international standards for the next-generation technologies such as the 5G mobile communications technology.
The world is set to discuss a roadmap for 5G technology in 2019. A number of companies in China, the United States and South Korea, have already kicked off key-technology development in a bid to gain an advantage in the discussions on the technology standards that need to be adopted globally.
Earlier this year, the Ministry of Industry and Information Technology, the regulator for the telecom sector, said the country has started exploratory work on 5G technologies and is planning commercial tests soon.
"China already contributed in 3G and 4G technologies, and it will naturally join other counties to be a leader in 5G development. I expect China to be successful in (5G development)," Zhao said.
He said the country should also play a bigger role in expanding the Internet penetration rate in developing countries. Mobile Internet using 4G and 5G technologies will be key to the process as the necessary infrastructure for fixed-line Internet is not in place in many areas.
Roughly 3.2 billion people worldwide were connected to the World Wide Web till now, of which 2 billion are from developing countries, according to an ITU estimate.
Zhao said he wants China to use its experiences and technology edge to help ITU connect those who are not connected yet.
Addressing the World Internet Conference in Wuzhen, Zhejiang province, on Wednesday, President Xi Jinping pledged a wider, more effective use of the Internet around the globe.
With a penetration rate near 50 percent, China had about 670 million Internet users by June, according to China Internet Network Information Center, an organization responsible for allocating critical cyber resources such as website domains.
A total of 594 million netizens were logging onto the Web through portal devices powered by mobile Internet technologies, it said.