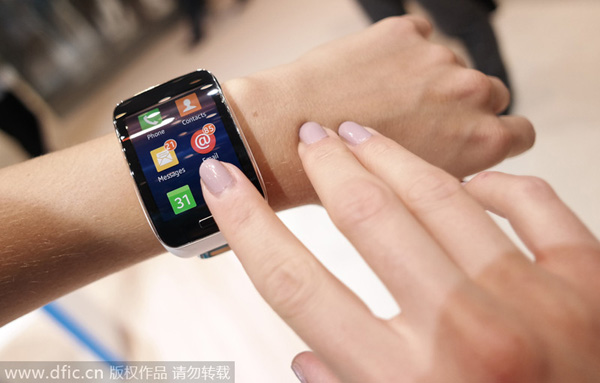 A trade fair hostess shows the watch Gear S at the Samsung trade fair stand on the third day of the electronics trade fair IFA in Berlin, Germany, Sept 7, 2014. [Photo/IC]

No one can afford to miss out on potentially massive mobile payments market, say analysts
Unlike smartphones, smartwatches have yet to become established as an integral part of everyday life in China.
But that has not stopped companies from rolling out their latest products in an effort to tap into the emerging wearable-devices sector-especially those that offer a payment function.
The reason, say analysts, is obvious: No one can afford to miss out on the potentially massive mobile payments market.
Inevitably, Alibaba Group Holding Ltd is among the latest to tap into the growing trend.
A unit of the e-commerce giant's cloud computing arm unveiled its first smartwatch device to feature a mobile payment function, on Thursday.
The device, named Pay Watch, has been co-developed by YunOS, the operating system division of Alibaba's Aliyun platform, and smart device maker Fiismart Inc, which is based in Shenzhen, Guangdong province.
Gu Zhicheng, who led the product's development at Yun-OS, said the launch marked the official entry of the Alibaba operating system's foray into the wearable devices sector.
Gu explained the new device is able to generate a quick response code which allows users to make payments wherever they want, even when they are not connected to the Internet.
Moreover, like Apple Inc's iWatch, the Pay Watch can also track users' daily activity and allow them to receive and respond to notifications, such as phone calls and short messages from mobile networking apps.
"For example, when you go out for a run and it is not convenient to carry your smartphone or wallet, you can wear the watch and use it to buy a drink after running," said Xiao Ming, one of the watch's designers at Fiismart.
Its payment function is connected to Alibaba-backed Alipay, China's leading third-party online payment provider, and can only be used to make payments in Alipay's tens of thousands partner stores across China.
A month ago, Alipay's competitor Lakala Payment Co Ltd also launched its smart wrist-band featuring a payment function.
Hao Zhujing, an analyst with Beijing-based Internet Consultancy Analysys International, said, however, that smartwatches are yet to meet what have become some pretty rigid demands from users of smart devices.
"But companies are still launching smartwatch products with payment functions because of the potential size of China's mobile payment market, which is expecting explosive growth," she said.
Analysys statistics show that in the second quarter of this year, mobile payments overtook Internet-based payments in terms of transaction volume, hitting 3.475 trillion yuan ($547.9 billion).
Interestingly, Pay Watch's production was part-funded via Taobao's online crowdfunding platform, with more than 7 million yuan raised since September 22 from 34,000 individual investors.