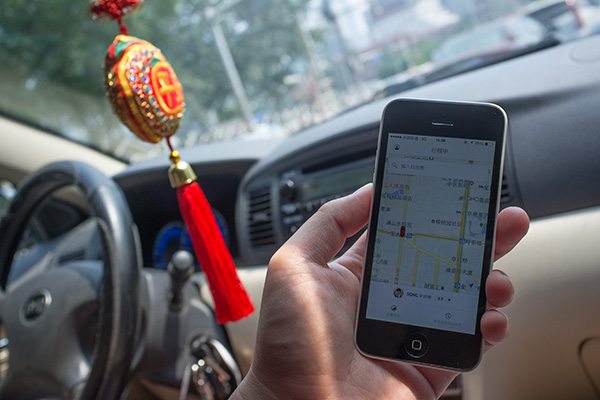 A passenger uses a car-hailing application for chauffeur services in Beijing. Last week, the Ministry of Transport issued a draft regulation, which seeks to ban the use of private vehicles from ride-booking services. [Photo/China Daily]
Chinese app-based chauffeur service provider UCAR Technology Inc joined hands with Edaijia Inc, a company that provides similar services, on Thursday, in a new push to challenge market leaders Didi Kuaidi and United States-based Uber Technologies Inc.
Under the partnership, UCAR and Edaijia will share their users and drivers, as well as make joint efforts to market their services. Edaijia specializes in providing driver services for intoxicated customers.
Consumers will be able to book services offered by UCAR on Edaijia's platform.
Lu Zhengyao, president of UCAR, said the two companies will also extend their cooperation financially.
"I can't disclose details now, but we will have a financial tie-up," Lu said, adding he did not exclude the possibility of acquiring or merging with Edaijia.
UCAR is the third-largest premium car-booking service provider in China, behind Uber and Didi Kuaidi, while Edaijia claims to have 90 percent of the country's driver services market.
Last month, UCAR raised $550 million in its latest round of funding, which values the company at $3.5 billion.
Zhang Xu, an analyst at Beijing-based Internet consultancy Analysys International, said the deal will give UCAR greater advantage in the country's highly competitive online car-hailing sector.
"Unlike Didi Kuaidi and Uber which use private cars to offer rides for payments, vehicles on UCAR's platform are all from rental companies and its services are in line with the government guidelines," Zhang said.
Last week, the Ministry of Transport published a draft regulation that seeks to ban the use of private vehicles from ride-booking services, a move that may hit firms like Didi Kuaidi and Uber.
"UCAR has abundant vehicles. Partnering with Edaijia will enable it to access the latter's more than 200,000 drivers," Zhang said.
According to the company's website, UCAR's affiliate car rental firm CAR Inc has 84,700 cars which are licensed for commercial use. But currently, it only has 50,000 drivers on its car-booking platform.
Yang Jiajun, CEO of Edaijia, said: "As part of the deal, drivers who work for Edaijia at night will be able to work for UCAR during the day."
But not all experts are optimistic about the cooperation.
Wang Xiaofeng, an analyst at Forrester Research Inc, said the deal was partly triggered by Didi Kuaidi's efforts to build a one-stop platform for all transportation services. In July, the company launched its own driver services and plans to cover more than 100 cities by the end of the year.
"Didi Kuaidi is a common enemy for UCAR and Edaijia, so it is quite natural for these two relatively small players to form an alliance. The tie-up may undermine Uber's presence to some extent, but currently, it is not competent enough to challenge Didi Kuaidi's dominant position," Wang said.
Data from Analysys International showed that UCAR accounted for 11 percent of China's premium car-hailing market in the first half of this year. It closely followed Uber which claims to have 15 percent, but falls far behind Didi Kuaidi, which has about 82 percent.