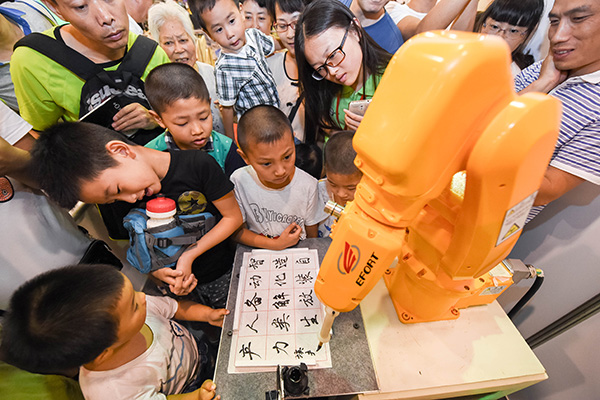 A robot developed by a local company in Anhui province demonstrates calligraphy at an international competition for robots in Hefei, capital of Anhui province. [Photo/China Daily]
A robot was hitherto regarded as a cold body with a cool mind, to be used at assembly lines, warehouses, mines, and even at homes to perform simple tasks like vacuum-cleaning and laundry.
Such machines have now evolved into "intellectual robots". They find application in various sectors, including security, medical services and aerospace.
That's not all. They can replace human beings as teachers, coaches and therapists. And, even as sex partners.
But what really impresses me the most is the robot journalist. Since last July, newswire Associated Press, in association with startup Automated Insights, has been "employing" a robot to produce corporate earnings stories.
The US media used to write around 300 such stories each quarter. Now, it can automate about 3,000, each typically containing 150 to 300 words. AP also uses robotic technology to provide sports news.
Following the success of media giants such as AP and The New York Times in developed markets, home-grown Tencent Holdings has developed Dreamwriter last month, which can produce a piece of hard business news within minutes.
Dreamwriter appears to be bad news to my fellow journalists and me. I wonder if our future job prospects are at risk.
But the development of intellectual robots brings good news to some men. Roxxxy-no typo in that suggestive six-letter name-is 1.70-meter-tall shapely robot weighing 54 kilograms, complete with a full C cup. "She" can talk to you about your interests as long as you want, if you remember to charge "her". A full charge takes around three hours.
Roxxxy cannot vacuum-clean your flat and do laundry. But she will not also complain, gossip and prattle endlessly. What's more, you can order a Roxxxy with a distinct personality and size ... customize your "girl" in line with your preferences for around $9,000.
The business of technology is not gender-biased in this segment, so there's some good news for women as well. They can buy a "male" robot soon. Rocky the male robot is in development as I write.