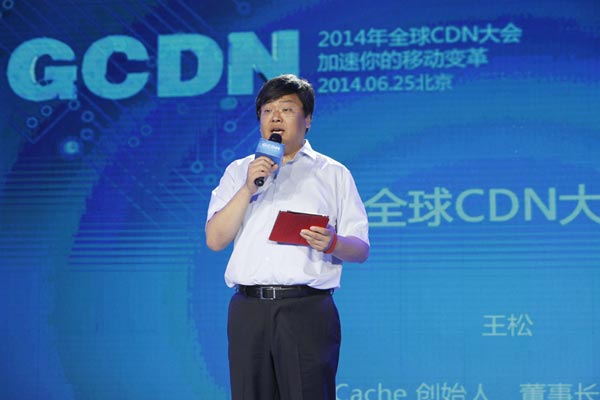 Wang Song, founder, chairman and CEO of ChinaCache International Holdings Ltd, delivers a speech at the opening ceremony of GCDN conference on June 25, 2014. [Photo/Provided to chinadaily.com.cn]
Although shares of US-traded Chinese firms tumbled in recent months due to turbulence of China's stock market, the US capital market is still valuable for those targeting global businesses, said Wang Song, founder, chairman and CEO of ChinaCache International Holdings Ltd.
Most US investors are more professional, experienced and have better knowledge in industries such as the Internet, because most of leading companies are there, Wang said.
On the other hand, the US market has a complete understanding of financial audit and management, which will be an advantage when looking for global business partners, Wang added.
ChinaCache, China's leading total solutions provider of Internet content and application delivery services, went public on the Nasdaq in 2010.
The company launched the repurchase program up to $6 million worth of American Depositary Shares on August 24, after witnessing its share price fluctuated in August.
"The buy-back program shows our confidence in the company, as we believe we are undervalued in the long run. It also helps strengthen investors' confidence." said Wang.
Set up in 2007, Chinacache US branch now serves high-profile customers including the global largest software technology companies.
Chinacache founded the North American R&D center in Silicon Valley in 2011. "We now recruit locally, which is more effective," said Wang.
The US is the leading innovator in the Internet field globally, while China boosts a huge market. Introducing the advanced technology to the Chinese market at the enterprise level will enlarge the effect and benefits both sides, Wang added.
"Of course, simple copying and repeat construction will eventually deteriorate the industry development. Only innovation and industry upgrading can be the way out," said Wang.
Part of ChinaCache Atecsys Cloud Data Center will be officially put into operation by the end of the year in Beijing.
"Our vision is to build the first neutral data center in China, which is accessible to all users, with our own fiber. ChinaCache Atecsys Cloud Data Center will be first real data center network service provider in China," said Wang.
The data center business would be an industry upgrading of traditional content delivery network (CDN) and would be the company's important business in the long-term development, Wang added.
In order to meet Beijing's green standard, the power-intensive center will be equipped with the environmental-friendly gas-fired power generation system which utilize the waste heat for cooling.