Roby Mini is just 40 centimeters tall, has a large round screen for a head and has been designed to help senior citizens living alone.
Manufactured by Shanghai PT Info Co Ltd, the brightly colored robot, which costs 5,000 yuan ($793), was launched on Aug 14 to help entertain and monitor elderly people.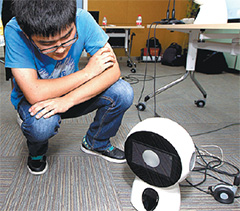 A technician interacts with Roby Mini. [Photo/China Daily]
Family members can also check on their relatives through Roby Mini's audio and video functions.
"This robot has been designed for the elderly," Hong Gang, co-founder and technical director of robotics company Shanghai PT Info, said. "The main innovation is its voice interaction. This makes Roby Mini particularly user-friendly for seniors who suffer from poor eyesight."
In Shanghai, the number of registered residents at least 60 years old was 4 million last year. That was nearly 30 percent of the population. By 2018, the figure will rise to 5 million.
With many living alone, robots such as Roby Mini can help play a crucial role in caring for the elderly. "It will change the way people interact with digital products," Hong said.
Founded in May, Shanghai PT Info had already done the groundwork. In fact, the research team spent three years developing the speech recognition system before the firm was officially rolled out.
At two meters, the robot will understand at least 95 percent of what you are saying, according to the company. At times, that could stretch to five meters. "You just need to tell Roby Mini what to do and it will do it after replying to your question," Hong said.
With 360-degree wheels hidden under its body, Roby Mini can follow a person through face recognition and strikeupa conversation, tell jokes or provide information.
The robot also works as a computer terminal, supplying weather information, ordering groceries online and even booking taxis. Roby Mini can be connected to other gadgets as well, such as smartbands or magnetic devices on doors.
"The robot will read out the statistics recorded in a smartband and encourage the owner to take more exercise in a daily quota," Liu Yiqing, public relations manager at Shanghai PT Info, said.
Other functions include collecting information from magnetic devices installed on doors and sending the data to family members. "It's a way to alert them to unusual activities by their relative," Liu said.