A decade of international expansion by Chinese technology company Lenovo Group Ltd has been marked by a book launch.
The Lenovo Way: Managing a Diverse Global Company for Optimal Performance was co-written by two of Lenovo's vice-presidents, Gina Qiao, senior VP of human resources and Yolanda Conyers, worldwide functions HR and chief diversity officer.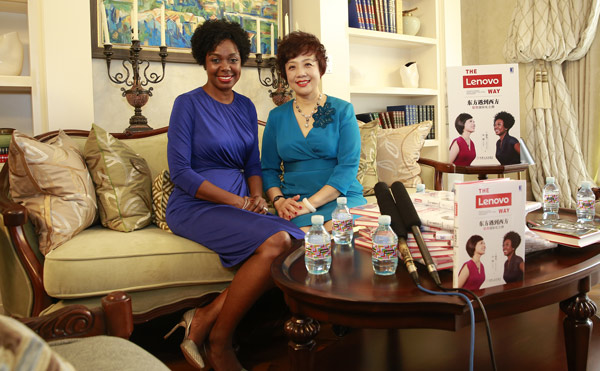 Yolanda Conyers (left), worldwide functions HR and chief diversity officer of Lenovo and Gina Qiao, Lenovo's senior VP of HR, pose for a group picture on May 29, 2015, after the launch event of their book, The Lenovo Way: Managing a Diverse Global Company for Optimal Performance. [Photo/Provided to chinadaily.com.cn]
From the perspective of the women's experiences and personal struggles, the book illustrates Lenovo's corporate culture and internationalization.
According to Qiao, language differences culture diversity were among difficulties to crop up during the company's development.
"One day, before the acquisition of IBM's personal computer business in 2005, our Chinese executives had a teleconference with their US counterparts. Most of our staff had to wear translation headsets to negotiate," said Qiao.
"Most of the time, we had to keep silent to understand what was our American partners were talking about due to the delay in translation, while they misunderstood that we were not open-minded to express opinions".
Qiao and Conyers have devised measures to improve the cultural fusion. Following their suggestions, Lenovo has made English the official language of the company, set up several headquarters worldwide and ensured a balanced composition of executives from East and West.
Qiao once moved her family to Raleigh, North Carolina, where Lenovo's American headquarters is located. Conyers and her family spent three and a half years in Beijing. That time has become one of the best memories in her life.
"Lenovo story is like everyone's story, it's a human one," said Conyers. "The story in the book is not only mine or Gina's individual story; it is about growing, adapting, innovating and leading the global economy.
"One of the biggest lessons companies are learning from the Lenovo story is humility, the more we grow the more humble it made us.
"One of the biggest lessons is that values that unite us are much more powerful than the things that divide us, like language or customs".
"I've been interviewed with Liu Chuanzhi (founder of Lenovo) and Yang Yuanqing (chairman and CEO) several times during the development of the company," said Yang Lan, former TV hostess of China Central Television, one of guests at the event.
"Ten years ago, people doubted the outlook of Lenovo after the Chinese company acquired IBM's personal computer business. Some even said, by comparing it with the acquisition activity, it is more difficult to integrate two companies' culture".
According to Yang, during the 10 year period, people witnessed the global expansion and development of Lenovo, and the company has set an example for latecomers.
The English version of the book was published last year and ranked top of the business book best-seller list of 800-CEO-READ in August.
"In this book, the authors pull back the covers and give incredible insights into this fascinating organization of the future, sharing a blueprint that others can adapt in order to be a truly global organization," said Dave Ulrich from the Ross School of Business, University of Michigan.
Lenovo has become one of the leading Chinese multinationals, having an annual turnover of $46.3 billion, 60,000 employees and operations in more than 160 countries.
Its employees work in 60 countries and use more than 40 languages.