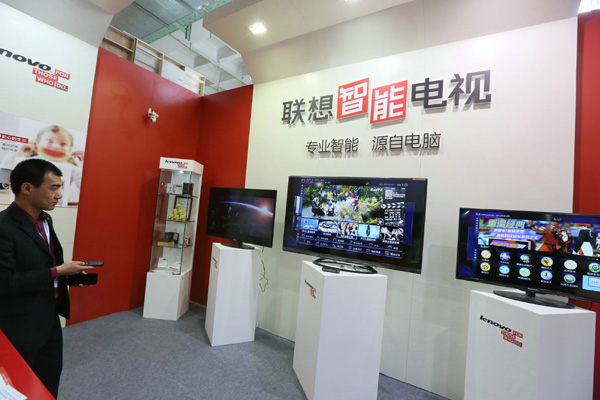 Smart TVs of Lenovo Group Ltd on display at a home appliance expo in Beijing. The company is setting up a new subsidiary to sell televisions online. [Photo/China Daily]
PC maker, e-commerce firm in partnership to sell television sets online
Lenovo Group Ltd is setting up a new subsidiary to sell televisions online, the company said on Wednesday.
Joining hands with Alibaba Group Holding Ltd's cloud computing arm, the new company is Lenovo's latest attempt to catch up with market leaders Xiaomi Corp and LeTV Holdings Co Ltd.
Lenovo had until now been a niche player in the TV market after more than three years of unsuccessful competition with Xiaomi and LeTV. Its strategy of relying on existing sales outlets and slow response to emerging demands, such as premium video content and streaming sports broadcasts, were the major reasons cited for its failure to catch up with peers.
Xiong Wen, who has been heading the Internet TV business for Lenovo, was appointed the CEO of the new company called 17TV. On Wednesday, Xiong introduced a 55-inch TV that can play ultra-high-definition and three-dimensional videos content. The product is priced at 2,999 yuan ($483), about 1,000 yuan cheaper than Xiaomi's flagship TV.
Alibaba's cloud unit, which runs a self-developed operating system YunOS, will be pre-installed on the TV sets of Lenovo. YunOS, a four-year-old system, is available on a small number of partners' smartphones, tablets and TVs and its market share is nothing compared to Google Inc's Android.
Xiong did not disclose details of the partnership with Alibaba. Besides operating systems, the Hanghzou-based company will provide video content and an online retail platform for 17TV, according to information acquired by China Daily. Online sales will be the main focus for 17TV.
The new company has also partnered with the video arm of Baidu and Shanghai-based BesTV New Media Co Ltd to provide more than 800,000 hours of content, according to Xiong.
"Lenovo is good at providing high-quality after-sales services and it will be a major strength for us," he said, adding Lenovo-made hardware and service plus Alibaba's software support will help 17TV acquire enough market share to be a strong player. Xiong did not disclose the sales target.
LeTV is looking to sell about 3.5 million TVs and Xiaomi is aiming at 1.5 million units, according to research firm All View Consulting.
Antonio Wang, a Beijing-based analyst at industry consultancy International Data Corp, said grabbing market share will not be the major target for 17TV. Instead, the company will help Lenovo find a way of doing business on the Internet.
"A smaller, more independent TV unit will give Lenovo flexibility and quicker answers to the market changes. Lenovo is desperate to accumulate online marketing capability," Wang said. "Lack of online marketing experience saw it lag LeTV and other Internet-oriented vendors."
Wang said giving Xiong's team a bigger say over marketing may help Lenovo win some of the shipments in the long run.
Tencent Holdings Ltd, Baidu Inc and Alibaba Group Holding Ltd have all been in the smart TV sector for about two years, but stiff competition has driven most of the Internet giants out of the market. Xiaomi and LeTV are the strongest emerging players to challenge traditional TV makers such as Samsung Electronics Co, Sharp Corp and local vendors TCL Corp and Skyworth Group.
The market share of Internet TVs remains small in the Chinese TV market, but the growth is vibrant. About 8 percent of the TVs sold in the country during the first quarter were models that can be connected to the Web, while the proportion was 3 percent a year ago, said All View Consulting.