Chinese tech giant Lenovo hosted a carnival-liked event on Thursday to launch new products and demonstrate its vision of emerging technologies at the China Nation Convention Center.
During the company's first global event named Lenovo Tech World, Lenovo Group Ltd shared its perspective on the entire device and connected ecosystem with emphasis on human-centric design, from wearables and smartphones to tablets, PCs, servers and software and cloud services.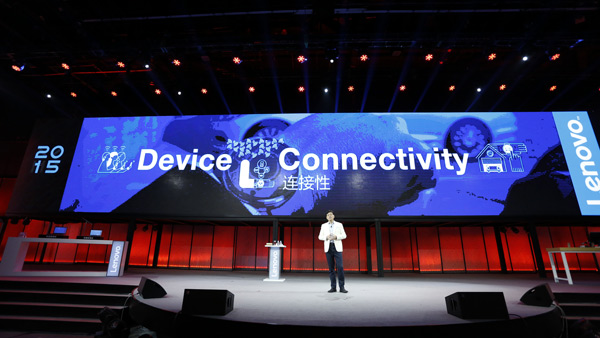 Yang Yuanqing, chairman and CEO of Lenovo Group Ltd, delivers keynote speech at the Lenovo Tech World held on May 28 in Beijing. [Photo/Provided to chinadaily.com.cn]
"Lenovo Tech World was a celebration of innovation with some of the world's great tech leaders, our partners and suppliers, and most important of all, our fans and customers," said Yang Yuanqing, chairman and CEO of Lenovo.
In his keynote address, Yang addressed five developing themes that will continue to change the way people use technology by creating more natural ways to connect people with devices, building device and network connections that are reliable, seamless and ubiquitous, making devices interconnected for rich interactions, giving customers the power of big data and their own personal cloud and leveraging smart connectivity to let customers pick the services they want and create their own unique experiences.
Concept products and technology demonstrations, such as Magic View, Smart Cast and Smart Shores are displayed to elaborate how the potential of future technologies will change the way people live, work and play.
Magic View is the first smart watch with two screens. According to Lenovo, the second screen, which is the virtual interactive display, removes the limitations caused by the physical dimensions of the main screen. "It uses optical reflection to create a virtual image and allows users to see a virtual display more than 20 times larger than the watch face display," said Peter Hortensius, senior vice president and chief technology officer of Lenovo.
To mark the strategic shift from a PC company to become a $46 billion consumer electronics behemoth, Lenovo also debuted its new logo at the event.
"The new logo offers a more personal, engaging and consumer-centric experience that reflects Lenovo's personality and incorporates its rich heritage of acquisitions and original innovation DNA," according to a statement published by the company.
The company's business partners, such as Intel Corp, Microsoft Corp and Baidu Inc, also took part in the event.
"Through our long-standing collaboration with Lenovo and the broader technology ecosystem, we are collectively bringing the future of technology to consumers, developers and businesses," said Brian Krzanich, CEO of Intel Corp.
"Together we will continue to bring innovative new devices and rich experiences enabled by Windows 10 to connect customers with the people and information they care about in ways that are more personal, mobile, natural and trusted," said Satya Nadella, CEO of Microsoft.
Robin Li, the founder and CEO of Baidu, said, "We are on the threshold of blowout growth in various artificial intelligence areas such as voice recognition technology, image recognition technology and big data."
According to Li, Baidu will carry out further in-depth cooperation with Lenovo on devices and infrastructure development.