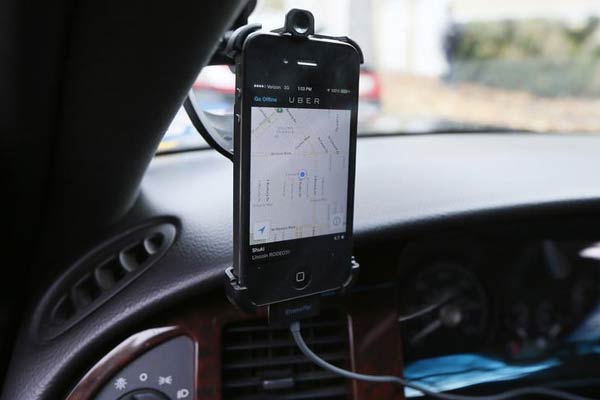 Uber started its test operations in Beijing two months ago. The company is expanding to six cities including Shanghai, Guangzhou and Shenzhen. [Photo/Agencies]
Uber Technologies Inc, the California-based online taxi service provider, has formed a partnership with leading luxury car dealer China Yongda Automobiles Services Holdings Ltd, to expand its services in China into sales of automobiles and financial services.
Car-leasing companies working on Uber's platform will be able to buy new vehicles from Yongda at preferential prices, with the Chinese company also offering customers after-sales services, loans, and other finance deals.
Uber said all the added services will come at no extra fees for its car-leasing company customers.
Even though the finer details are yet to be finalized, Uber and Yongda have reached preliminary agreement, they said, on selling "hundreds of millions of yuan" worth of Audi and Volkswagen cars on the platform.
Wang Xiaofeng, general manager of Uber Shanghai, called the partnership an important step in its localization in China, and the move was prompted by a demand for the service from existing customers.
"Some have come to us asking for help in finding distribution channels for new cars. For many of the car leasing companies using our platform, it is difficult to get loans from banks as most are small and medium-sized enterprises. They also needed a trustworthy partner for after-sales services," he said.
Similar partnerships have already been forged by Uber in two of its other key markets, the United States and India.
China's car importers are faced with a series of market challenges this year.
According to the February Vehicle Inventory Alert Index released by the China Automobile Dealers Association, inventories remain high, mainly as a result of poor sales during the recent Spring Festival holiday. Based on the experiences in 2012 and 2013, it is estimated the imported car market could take at least six months to pick up again.
Chen Jiaxiong, deputy general manager of public relations at Yongda, which specializes in the sales of luxury imported cars such as Bentley, BMW and Audi, said the Uber deal provides it with another potentially lucrative sales avenue.
"But sales will not be the focus of the partnership; the most important impact will be on our financial services, which Yongda excels at," he said.