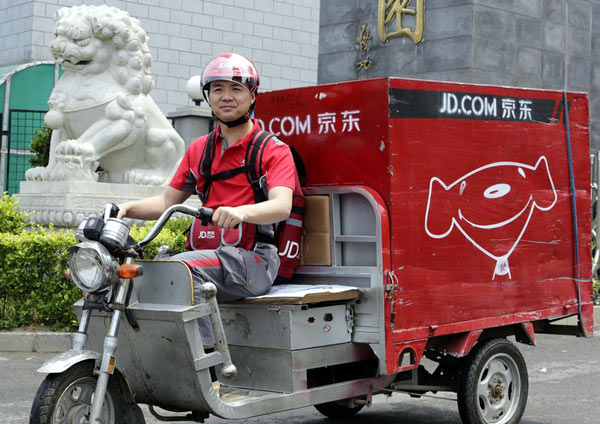 Liu Qiangdong, CEO and founder of JD.com, rides an electric tricycle as he leaves a delivery station to deliver goods for customers to celebrate the anniversary of the founding of the company, in Beijing, June 16, 2014. [Photo/Agencies]
Rural areas are the new battleground for e-commerce companies looking to expand their presence outside of the saturated urban centers.
"E-commerce is one of the new engines for the country's economic growth as stated in this year's government work report. Thanks to the popularity of the Internet and the development of the logistics industry, China's western area can take advantage of e-commerce and their own resources to achieve leapfrog development," said Lu Yunhui, a deputy to the 12th National People's Congress from Guizhou province.
According to Xinhua News Agency, hoping to tap the new areas to offset a saturated urban market, China's e-commerce giant Alibaba Group Holiding Ltd, JD.com Inc and Suning Commerce Group all shave stepped up expansion of online retail business in rural areas while promoting targeted and tailored services to consumers.
Alibaba announced in October 2014 that it will invest 10 billion yuan over the next three to five years to build 1,000 "operating centers" in county seats and up to 100,000 "service outlets" in villages in order to expand its presence in the rural market.
Suning Commerce Group, another major player in Chinese e-commerce, also plans to establish 10,000 depots covering 25 percent of Chinese rural areas in five years.
JD.com, on the other hand, plans to open 500 brick-and-mortar service centers in underdeveloped counties in 2015.
To talk about these and other issues, chinadaily.com.cn interviewed executives of JD.com, one of China's largest online direct-sales companies, during the two sessions.
Here are the excerpts:
1. What are some of the biggest difficulties facing e-commerce companies looking to expand in rural areas?
JD.com's spokesperson: Changing habits of shopping in brick-and-mortar stores to online shops may take time for rural residents. They have to know how to purchase online, develop brand awareness and loyalty toward the goods bought online.
2. Many of the delivery companies do not provide services in rural areas below the county-level. What is needed for better door-to-door delivery so that rural customers can enjoy the same express service and after-sales service that their urban counterparts enjoy?
Wang Hui, director of JD's distribution department claims that the company plans to open 500 brick-and-mortar service centers in underdeveloped counties in 2015.