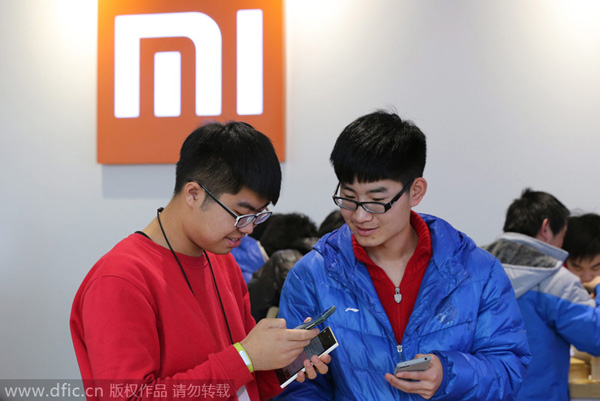 Two men use Xiaomi smartphones at Xiaomi product experience center in Beijing, Jan 12, 2015. [Photo/IC]
Xiaomi, one of China's hottest companies, is bringing its blend of cheap yet fashionable technology and crowd-pleasing antics to the United States.
Although its smartphones won't be available in the US anytime soon, Xiaomi unveiled plans Thursday to test the US market by selling inexpensive headphones and other accessories online. It plans to hew to the Internet-driven, customer-friendly model that has helped turn the company into a major player in mobile computing just five years after its founding.
Xiaomi pronounced schow-mee has made a name in China by selling sleek gadgets at relatively low prices, using online sales and social media to keep marketing and distribution costs low. Some analysts have hailed the company as the Chinese equivalent of Apple, in part because of its intensely loyal fans.
There are some significant differences between the two companies' approach, though. While Apple tends to keep its future product plans secret, Xiaomi has invited customers to nosh on popcorn at company parties, chat on Xiaomi's online forums and review or make suggestions for new features, which Xiaomi frequently builds into its weekly software updates.
"We don't have customers or users. They prefer to be addressed (as) fans,'' said Hugo Barra, who defected from his job overseeing Google's Android products in 2013 to help plot Xiaomi's expansion outside China.
Barra was joined Thursday by Bin Lin, Xiaomi's co-founder and president, at the company's first major press event in the United States.
In an interview with The Associated Press, Barra described the US website as "an experimental launch'' that will help the company raise awareness in the US, which in turn would help its profile in other countries. He said the company also is hoping to get the kind of feedback and ideas from US consumers that the company gathers in China.
Xiaomi has emerged as a mobile-computing sensation with a line of smartphones sold in China, India and six other countries where much of the population still lacks Internet access. The company plans to expand into Brazil later this year. The phones offer a smattering of the sleek technology featured in fancier devices made by Apple and Samsung, but they sell at much lower prices, ranging from about $95 to $280. In comparison, an iPhone 6 starts at $650 without subsidies for signing two-year contracts.