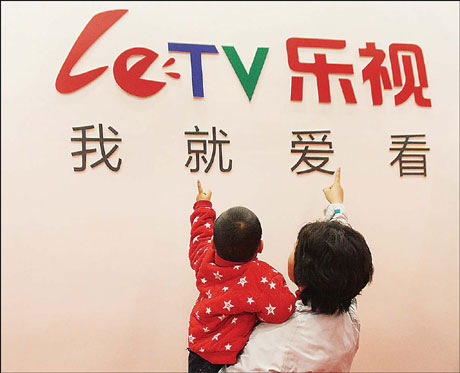 The booth of LeTV.com at the 3rd China International Copyright Expo. [Nan Shan / For China Daily]
Competition intensified in China's smartphone sector on Wednesday with a top online video-sharing platform throwing its hat into the crowded marketplace.
Leshi Internet Information & Technology Corp, better known as LeTV, plans to launch a smartphone later this year, and it said Feng Xing, a former Lenovo Group Ltd executive, would head the company's mobile division.
"LeTV will be a disruptive force that will overturn the Chinese smartphone market as we will be the only player who can distribute online content and services across all platforms, ranging from televisions to smartphones," said Feng.
However, he did not indicate when the company's phones would be available in the market, but said mass production is likely to start soon.
The device is likely to have a unique screen size and is likely to be bezel-free, according to a person familiar with the production.
LeTV has not launched a mobile device so far. It began making Internet TVs years ago and has been receiving positive reviews. The company claimed it has set up a hardware development team of 1,000 people for its smartphone project.
Dong Xu, senior analyst at Beijing-based research company Analysys International, said the biggest advantage for LeTV to tap into handset market is the company's strong content-producing capability.
"Making self-developed smartphones will give a bigger audience group for the company's video resources," Dong said.
"It does not need to become the best player in the smartphone market. The gadgets will help LeTV gain an upper hand in building a unique ecosystem ranging from content making, distribution to user-end consumption," said Dong.
LeTV's ambitious ecosystem construction plan also includes automobiles. Company founder Jia Yueting earlier this month announced a car production unit to make electric cars installed with a self-developed command system.
LeTV was the fourth-largest Internet video sharing platform in the third quarter of last year with 9.43 percent market share, according to Analysys International. Youku Tudou Inc, the largest, controlled more than 22 percent market share.
LeTV is not the only company that is looking to build a content-sharing platform across TVs, tablets and smartphones. Xiaomi Corp, another smartphone maker, last month invested in Youku to beef up its video-sharing abilities.