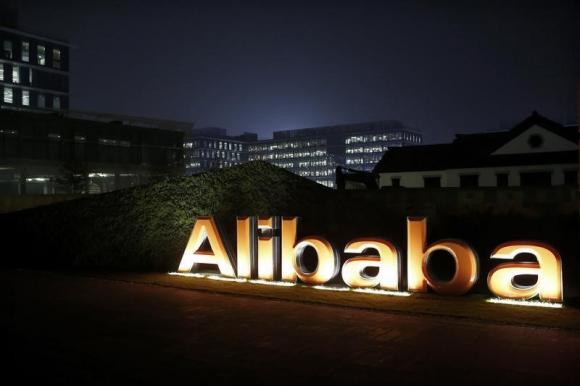 The logo of Alibaba Group is seen inside the company's headquarters in Hangzhou, Zhejiang province early Nov 11, 2014. [Photo/Agencies]
China's Alibaba Group Holding Ltd plans a major move to win US business this year, by offering American retailers new ways to sell to China's vast and growing middle class.
Anchored by Alipay, the dominant Chinese electronic payments system that works closely with Alibaba and is controlled by its executives, the world's largest Internet retailer is using the calling card of China's consumers to attract US partners, two sources close to the company told Reuters.
Long seen as the most potent threat to Amazon.com Inc with $300 billion in global sales, the moves add up to a conservative approach to expanding in the United States.
That considered strategy, outlined to Reuters for the first time by the sources and executives who work directly with the Chinese company, is intended to heighten awareness in the United States of what Alibaba does, gain goodwill in an important Western market, and lay the groundwork for a longer-term play.
At the heart of its push are Alibaba's and Alipay's trial deals to handle Chinese sales, payment and shipping for some of the biggest names in US retail from Neiman Marcus Group to Saks Inc. Both confirmed the agreement but would not talk about how the pilots are faring.
The Chinese companies will also work with US startup Shoprunner, an online mall for US retailers in which it owns a stake, and retail services provider Borderfree Inc to court Chinese consumers.
And Alibaba is preparing a marketing campaign to raise awareness among US businesses of its global business-to-business wholesale platform, Alibaba.com, so they can buy and sell to and from global suppliers.
"They own the toll road into China," said Michael DeSimone, Chief Executive Officer of Borderfree. "What really puts the jetpack on things when you deal with an Alipay is, they're on the ground and they know the Chinese consumer so well."
Industry insiders point to just $15 billion in annual US-to-China, cross-border consumer sales now. But Daiwa estimates cross-border purchases, which exclude sales of American products within the country, can grow to 1.8 trillion yuan ($291 billion) by 2020.
"It's not a big thing right now, but within the next 12 to 18 months what you'll see more of is bringing 300 million Chinese consumers to retailers in the US," Alibaba Vice Chairman Joseph Tsai said in an interview with Reuters last year. He laid out the broad plan, and sources have now described details.