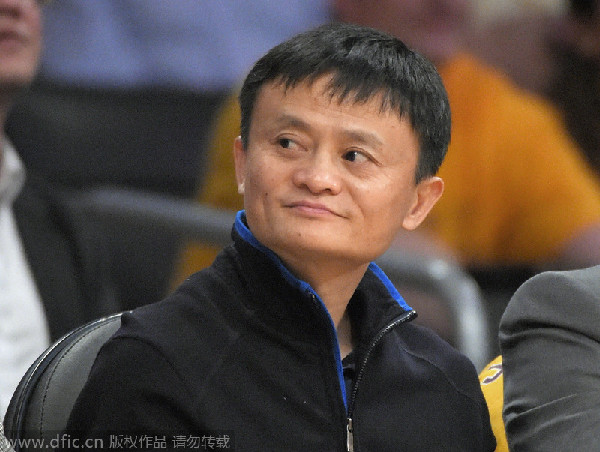 Jack Ma, founder and executive chairman of Alibaba Group, watches NBA basketball game in Los Angeles, Oct 28, 2014. [Photo/IC]
Jack Ma Yun, founder and executive chairman of Alibaba Group, apologized for his remarks on competitor JD.com, which were revealed in a new book by his friend.
"It's unfair to turn private brags between friends into a public article. I'm deeply sorry for the senseless troubles caused to JD," said Jack Ma in his microblog Weibo on Thursday evening.
The apology comes after his warnings about JD's "destined tragedy" to his friend, who later revealed it in a book, reported China Business News on Thursday.
According to The True Story of Alibaba, Jack Ma said to the author that there's a huge problem with JD's business model, adding that the company has been hiring too many and its self-run delivery was impractical.
"I' m hoping to express my opinion as completely as possible (next time), and avoid offending others with my bitter remarks," said Jack Ma in his microblog.
"There's no perfect business model or correct one. The most suitable shoes are the ones that fit best. It has to meet your ideal and be welcomed by customers," Jack Ma continued, adding that JD is changing and he genuinely blesses and cares about its hard work.
JD, meanwhile, made this comment in a Chinese poem: "No need to get overly sentimental."
"Time will prove, for it's a just peacemaker," said China's second-largest e-commerce company through its official public account on Wechat.
Teasing-style promotion
Jack Ma is not the only one who has challenged JD.com. The rumor about its CEO's breakup with a cyber celebrity recently turned into an advertising phenomenon.
Advertisements made by marketing teams about "a shop owner who went through a breakup and decided to close business and offer big sales" went viral.
JD denied the rumor that Richard Liu Qiangdong will have to pay 30 million yuan ($4.82 million) to end his relationship with Zhang Zetian, also known as milk tea girl because of her pure and warm looks.
The couple announced their relationship to the public via their Weibo account in April last year. However, the posts of them admitting their feelings to each other have now been reportedly deleted.
The Beijing-based company said on Monday that it will take legal action against those who spread the break-up compensation rumor.