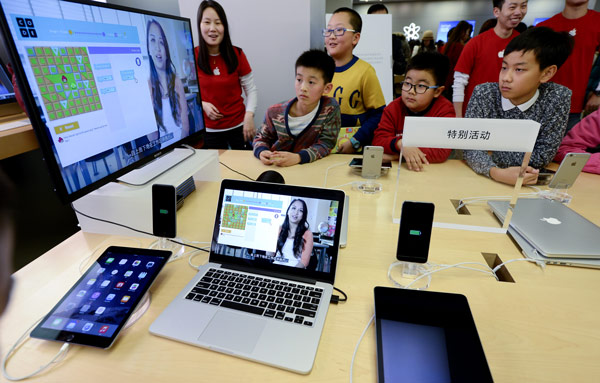 Teenagers take part in the "Hour of Code" workshop on Dec 11, 2014 at the Apple Store of Xidan Joy City in downtown Beijing. [Photo provided to chinadaily.com.cn]
"Hour of Code" Workshops aiming to inspire innovation and break down barriers of access to computer science were held on Thursday at Apple's retail stores in Beijing.
Apple Inc supports the global event for young students and teenagers as one of the major partners and corporate backers, providing Apple retail stores as venues around the world.
The annual event, initiated by an American non-profit organization Code.org last year, was introduced by Apple Inc to China in 2014.
According to the organizer, as of the one year anniversary of the event, more than 50 million students around the world have participated in the "Hour of Code".
During the workshop, students can not only learn about coding but hear the stories of successful developers and how they can get involved in coding at any age.
"My kids are fancy about computers, they have computing classes at school and they also take part in after-school training sessions on computer science similar to this event," said Mrs Chen, who accompanied her two girls to join the "Hour of Code" workshop at the Apple Store of Taikoo Li, Sanlitun Village in downtown Beijing.
According to Chen, as members of the digital native generation, her children enjoy working and playing with digital devices not only during class hours but also in their leisure time.
"My daughter is eight and a half years old. I am happy to allow her to play with my iPad for half an hour each day. I have been using this device to watch online videos during my daily commute, and I will learn from my daughter how to use some apps," said Mrs Zhang, another parent who attended the event with her child.
According to a statement by Apple, the company believes that inclusion inspires innovation, and it wants to inspire young people everywhere, regardless of age, gender, race, location, or background, to believe that they can be the next Apple engineer, or build the next app that transforms the way they work or play.
On Dec 7, a short speech made by President Barack Obama released on YouTube kicked off the 2014 Computer Science Education Week and "Hour of Code" event.
On another day, Obama also met with a group of students who was invited to the White House for this year's "Hour of Code" event. He tried typing some code into the computer and became the first president who learned how to code.
"Computer science is about starting small, learning how to tell the computer to do the simplest, easiest thing and then building from there. It all starts with a first line of code," said Hadi Partovi, CEO of Code.org on quora.com, in response to netizens' enthusiasm about the president's participation in this year's event.
Code.org believes that every student in every school should have the opportunity to learn computer science.
"Computer science and computer programming should be part of the core curriculum in education, alongside other science, technology, engineering, and mathematics (STEM) courses, such as biology, physics, chemistry and algebra," said the organization.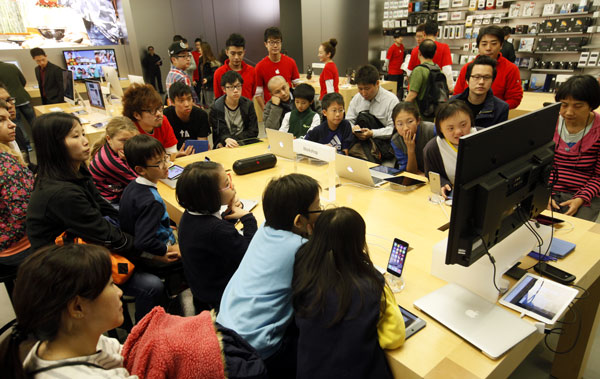 Teenagers take part in the "Hour of Code" workshop on Dec 11, 2014 at the Causeway Bay Apple Store in Hong Kong. [Photo provided to chinadaily.com.cn]