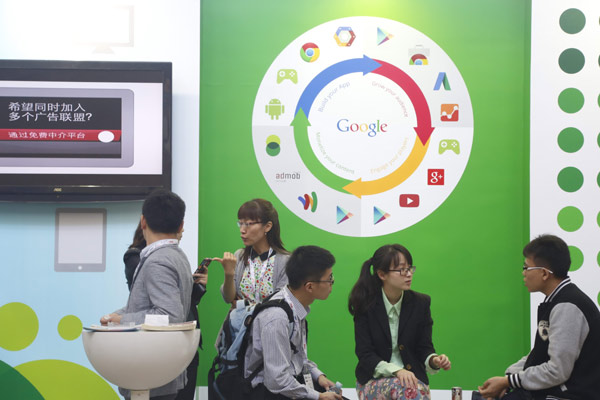 The Google Inc stand at a mobile Internet expo in Beijing. The search provider has started to allow app developers in China to sell items through Google Play. [Photo / Provided to China Daily]
Google Inc is making its most aggressive move on the Chinese mainland since a high-profile exit from the market nearly five years ago.
The Internet giant said on Thursday that it has started to allow app developers in China to sell their products through Google Play, an online app store installed in more than 1 billion Android smartphones worldwide.
Industry sources speculated that Google is preparing for a more significant move that would let Android phone users in China download apps from the store, which cannot be done at present in the world's biggest smartphone market.
Google was careful in phrasing its app announcement because the move could potentially make available the first major Google service in China since early 2010. After months of skirmishing with local regulators over information security, Google gradually withdrew its core services from the mainland in that year.
Google's products, including its online search engine and mapping service, are not available on the mainland.
"Today we are simply opening Google Play to Chinese developers and giving them the ability to bring their applications to a global audience-just like what we've done in more than 60 other countries," Google said in an e-mailed statement to China Daily.
Developers in China will be able to sell apps via Google Play in 130 overseas markets. Google will help developers collect revenues from in-app purchase and subscription services. The revenues will be transferred to developers' Chinese bank accounts.
App developers in China had to find an overseas agent to manage the payments in the past.
Chris Yerga, Asia-Pacific managing director of Google Play, said: "Chinese developers will be able to explore global business through the Android platform. They will have a chance to build a real international business."
Also on Thursday, US tech website The Information reported that Google intends to introduce a version of Google Play to China in hopes of tapping into a market that accounts for about half of the global population that is using the Google-developed Android operating system.
"The company has indicated its intention to reverse a longstanding Google policy and distribute its app store with phonemakers and other potential partners in China," said the report, citing an unidentified source.
Google declined to comment.
Wang Jun, a senior analyst with Beijing-based consultancy Analysys International, said Google has already missed the key window of opportunity to return to the Chinese app market.
"Local players are taking firm control over the Android app-distribution market. There is not much room left for Google Play," Wang said. He said that most Chinese smartphone producers do not pre-install Google Play on their devices, making it harder for the service to reach out to customers.
Baidu Inc, Qihoo 360 Technology Co Ltd and wandoujia are the country's top three app distributors, according to the China Cloud Degree Registration Center, an app distribution monitoring organization. The three platforms handled more than 70 percent of the country's total game app downloads as of August, the center said.
According to Google, more than 1 billion Android devices, including smartphones and tablets, are installed with Google Play globally. The app store now has more than 1 million utility and gaming apps with total downloads exceeding 50 billion.
Apple Inc, who operates Android's rival system iOS, is also trying to grab more revenue in China. The company teamed up with local bankcard association China UnionPay in an attempt to spur app sales and to bundle more bankcards. It is launching a promotion campaign on the mainland by lowering some of the apps' prices to 1 yuan (16 cents).