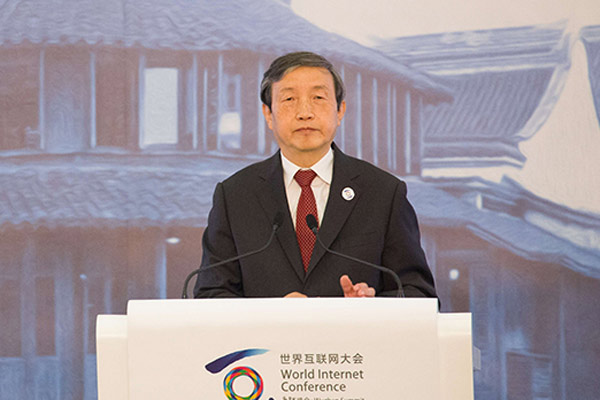 Ma Kai, Vice-premier of State Council, delivers a keynote speech at the World Internet Conference held in Wuzhen, East China's Zhejiang province, Nov 19, 2014. [Photo/ wicnews.cn]
China's Internet tycoons and officials together with foreign cyberspace titans celebrated the opening ceremony of the World Internet Conference in Wuzhen, an ancient town in Zhejiang province, on Wednesday.
President Xi Jinping has sent a congratulatory note to the ceremony, hoping that the Internet specialists can improve further cooperation, as well as build a peaceful, open and safe network.
Xi said in the letter that he hopes the guests will provide suggestions and make efforts to reach agreements on the global network governance.
Vice-Premier Ma Kai attended the ceremony, offering his greetings and suggestions to the attendees.
"We should keep mutual respect and mutual trust in cyberspace, share governance, and strive for win-win cooperation," said Lu Wei, minister of Cyberspace Administration.
He added that the conference can help speakers and guests better grasp business opportunities in China and reach consensus in building a safe, open and cooperative Internet environment.
The conference, which is being held by China for the first time, ends Friday. It has attracted leaders of China's three largest Internet companies, including the country's top search engine Baidu and instant messaging tool provider Tencent, as well as participants from top global technology enterprises in the world, including Apple and Cisco.
"China is participating in world's Internet development and is providing unique values," said Jack Ma Yun, executive chairman of Alibaba Group, at the opening ceremony.
He added that Internet will continue to influence life and human civilization.
More than 1,000 participants from over 100 countries and regions are attending the conference.
China has 632 million Internet users, including 527 million who access the Web from mobile devices, and the total is projected to rise to 850 million by 2015, according to the government.
As a major Internet player, China is attempting to change its role in governing the cyberspace, and it shows confidence in sharing its opinion on how to face online threats and how to enhance international cooperation online.