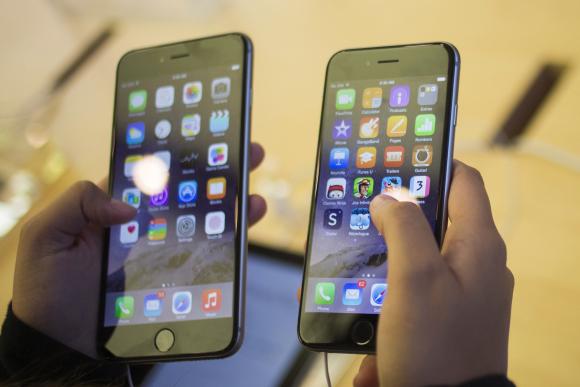 A customer holds an iPhone 6 (R) and iPhone 6 Plus after the phones went on sale at the Fifth Avenue Apple store in Manhattan, New York Sept 19, 2014.[Photo/Agencies]
BEIJING - US tech giant, Apple Computers has announced the release date for the latest iterations of their popular iPhone smartphones. The iPhone 6 and iPhone 6 plus will be released in the Chinese mainland on October 17.
The iPhone 6 and iPhone 6 plus go for pre-sale on Oct 10 and in-store pickup on Oct 17. The phones will retail starting at 5,288 yuan and 6,088 yuan respectively. They will be available across all three Chinese telecom carriers and Apple's own standalone stores.
The reveal of the release date came on Tuesday afternoon, hours after the Ministry of Industry and Information Technology (MIIT) said that it has granted a network access license to Apple Inc's latest smartphone, the iPhone 6.
The license approval came after four models of the iPhone 6 passed 3C (China Compulsory Certification) certification, a mandatory certification system to inspect and approve various products to be sold in China, and won approval from the State Radio Regulation earlier this month.
The network access license together with the two other regulatory approvals means that the iPhone 6 can be sold in China.
The MIIT said in a statement that it made the decision to issue the license after getting reassurance from Apple that three background service programs, which reportedly had risks of personal privacy leaks, are only diagnostic tools that won't be used maliciously.
In a document submitted to the ministry, Apple said that the company won't be allowed to "interfere with" any personal information without clients' approval, and it has already taken measures in its ios8 system to make it even more difficult for anybody to use the tools maliciously.
Apple also said it will improve security and privacy protection for its clients. The company said it has never and will never set up so-called "back doors" in any of its products or services in cooperation with any government organ of any country.
The MIIT said it pays great attention to protecting mobile phone users' personal information and will strengthen security management of mobile phones, according to the statement.
The ministry will also enhance network access security review as well as supervision and inspection of products that are already licensed, saying any violation of regulations on personal information protection will be investigated and punished.