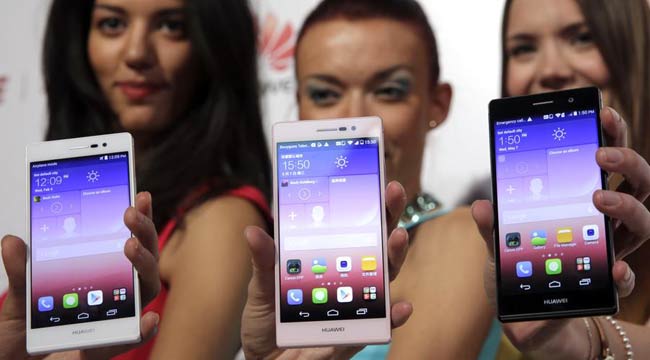 Women hold new Ascend P7 smartphones, a model launched by Huawei Technologies Co Ltd, during a presentation in Paris. REUTERS
Growing security concerns could spell end to use of Apple, Samsung models and shift to local makers
China's growing security concerns over overseas-made smartphones will translate into business opportunity for local vendors, analysts said on Monday.
Handsets introduced by Huawei Technologies Co Ltd, ZTE Corp and Lenovo Group Ltd are ready to take market share away from Apple Inc and Samsung Electronics Co Ltd as industry insiders look into the possibility of a government-led ban on global brands in the name of national security.
Huawei, based in Shenzhen, Guangdong province, is focusing on cloud data protection and anti-eavesdropping capabilities on its flagship device. A smartphone featuring ZTE's "toughest security standards" made it onto a State gift list during President Xi Jinping's visit to Tajikistan last week.
Lenovo, the world's largest personal computer maker and a growing power in the mobile sector, is working on phones that recognize an owner's fingerprint, according to a component supplier.
The technology, similar to Apple's Touch ID system, is being led by Lenovo's development unit in the United States, the source, who asked for anonymity because the matter has not yet been made public, told China Daily.
"Lenovo was very eager to add the function to its next-generation device and pushed hard on its supply chain," the supplier said.
Chinese manufacturers' desire to offer world-class security features for their buyers comes amid concerns about information safety from the Chinese government after former US National Security Agency contractor Edward Snowden unveiled a massive cyber surveillance program of the US government in 2013.
The latest ripples of the Snowden case arrived on Friday when a former Chinese official said Shanghai has asked municipal officials to power off smartphones made by Apple and Samsung for security reasons.
Wei Jianguo, secretary-general of the China Center for International Economic Exchanges, told a forum in Beijing that China should stay on high alert regarding national security threats on the Internet and the mobile Web.
"Shanghai ordered officials to use Huawei phones instead of Apple or Samsung. Why is that? It is because of security risks," he said, according to a speech transcript that was posted on Web portal Sohu.com.
The Shanghai municipal government denied the city is telling public servants to use Huawei devices. But a source familiar with the matter said top government officials in Shanghai are already using an encrypted telecom service.
In August, Dragon TV, a Shanghai Media Group-owned television channel, also said about 2,000 anti-eavesdropping phones were put into use in government, military and key State-owned technology enterprises.
The phones were made by Guangdong-based low-end device maker Yulong Computer Telecommunication Scientific (Shenzhen) Co Ltd.
Charlie Dai, principal consulting analyst at Forrester Research Inc, said complying with government bans on Apple and Samsung products will not be easy because smartphones are purchased using officials' personal funds, not the government's.
"It is also not likely that the government will allocate special funds in order to replace phones for officials," he said.