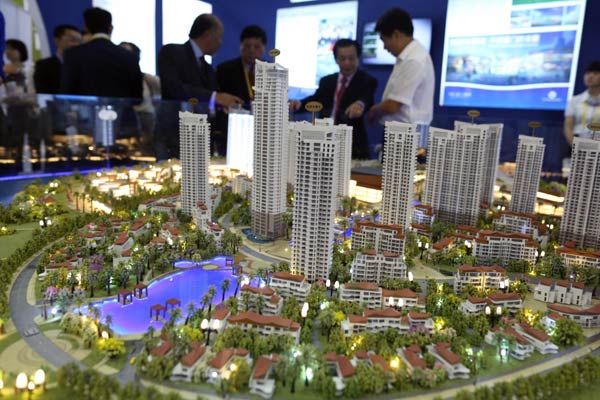 Models of apartment buildings displayed at the on-going 18th China International Fair for Investment and Trade in Xiamen, Fujian province. Developers are cutting prices to spur sales after volume dropped in the first eight months of the year. [Provided to China Daily]
Those who have paid off their mortgage can be classified as first-time homebuyers and can enjoy a mortgage rate as low as 70 percent of the central bank's benchmark rate, Shanghai Securities News reported quoting sources from commercial banks on Tuesday.
The latest attempt to revive the property market comes amid more lifting on housing purchase limit nationwide this year, with only six cities including Beijing, Shanghai and Guangzhou retaining the policy.
Fuzhou, capital of China's Fujian province, announced on Monday to loosen the definition of first-time homebuyer by including those who have paid off their mortgage, in line with Nanjing and Hangzhou where the same policy has already been implemented, said the News.
Mortgage rate for first-time homebuyers can be as low as 70 percent of the central bank's benchmark rate, according to commercial banks in Hubei province citing an internal guideline this month, while discounts are fewer in first-tier cities, according to Shanghai Securities News.
The minimum down payment for first-time homebuyers is about 30 percent of the housing's market value, according to Rong 360, an online search platform for consumers and financial institutions.
Whereas, the minimum down payment for a second house is 60 percent and its mortgage rate should be above 1.1 times of the central bank's benchmark rate, as has been set by the State Council since 2011 to damp the then heated property market.
New-home prices fell month-on-month in August this year in 68 of the 70 major cities monitored by the National Bureau of Statistics (NBS), the weakest housing data in the past three-and-a-half years since the government changed the way it compiled the figures.
In the first eight months of this year, national home sales dropped 10 percent by floor space over a year earlier and slumped 10.9 percent by value, the NBS said earlier.