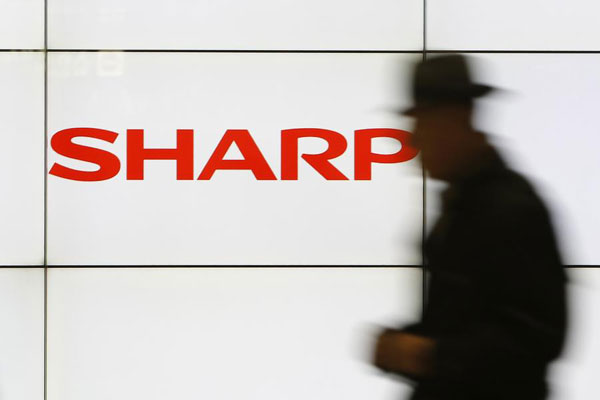 A pedestrian walks past a logo of Sharp Corp at a train station in Tokyo February 3, 2014. [Photo/Agencies]
OSAKA - Japan's leading displays supplier Sharp Corp is planning to provide Chinese communications device makers with its low temperature polysilicon liquid crystal panel with the world's highest-level resolution, Kyodo News reported Tuesday.
The Osaka-based Japanese electronics maker is considering providing the panel to such companies as major Chinese telecommunications equipment maker ZTE Corp to market the product for luxury smartphones on the back of their growing demand in the country, the report said, quoting sources close to the matter.
Sharp is expected to start producing the high-resolution panel at its plant in Taki, Mie Prefecture in central Japan as early as July.
Sharp developed low temperature polysilicon in around 2000 and has been improving its image quality for the use of communications devices. The company is hoping to shore up its LCD business by making the panel its mainstay product just as its Igzo liquid crystal panel, which has expanded sales channels in China.
The pixel density of Sharp's low temperature polysilicon display comes to well over 500, exceeding Igzo's around 300 to 400. If the panel's sales go on a sound track, the company will move as early as next year to put panels with super high-quality images with a pixel density nearer to 600 to practical use, according to the report.