Tencent shifts attention to smartphones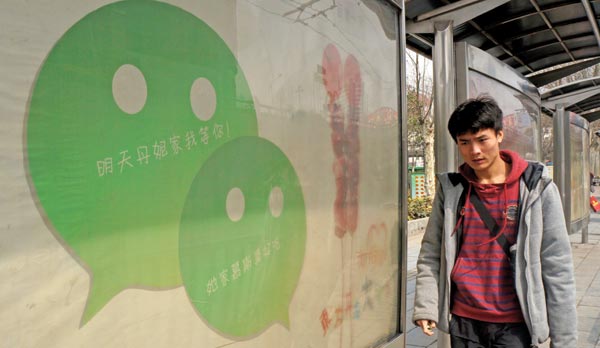 An advertisement for Tencent's Weixin mobile application in Zhengzhou, Henan province. [Photo/China Daily]
Tencent Holdings Ltd, China's biggest Internet company, is shifting its focus from personal computers to smartphones, following trends in changing user activities.
Chairman Pony Ma said on Wednesday that Tencent users' activities saw significant changes in the second half of 2012.
The advent of low-end Android smartphones, especially devices that cost around 1,000 yuan ($161), helped raise smartphone coverage in China. And many users are now spending time on smartphones that they originally spent on computers.
In light of the change, Tencent plans to go all-out this year to diversify and strengthen its services on smartphones.
Its smartphone instant messaging service, Weixin, or WeChat in overseas markets, is already a market leader in China, with more than 300 million users.
This year, the company plans to add more functions, including games and content services, into Weixin.
Ma said he is considering making connections between Weixin and Tencent Weibo, the company's micro-blogging service.
Meanwhile, more efforts will be put into optimizing its browser and firewall applications on smartphones.
"We will go all-out this year to enhance user experience on Weixin and build open platforms to enrich contents," said Ma during a press conference in Hong Kong.
In response to rumors that it might start charging Weixin users, Ma added that his Shenzhen-based company has no immediate plan to monetize Weixin.
Ma made the comments after reporting that profit rose 37 percent to 3.46 billion yuan in the fourth quarter, on robust growth in online gaming. That profit was generated from revenue of 12.2 billion yuan.
Revenue from Internet-value-added services, which includes online games, contributed 70 percent, or 8.5 billion yuan, to total revenue.
Revenue from its emerging e-commerce business rose 48 percent to 1.7 billion yuan.
"Tencent's fourth quarter result is in line with our expectations," said Qiu Lin, an IT analyst with Guosen Securities Co in Hong Kong.
Looking into this year, Qiu said Tencent won't likely generate much revenue from the mobile Internet business, despite the company's strong push. And games are the most likely source of income for Tencent's mobile Internet business.
Qiu estimated that Weixin-based games will help bring Tencent 1 billion to 2 billion yuan in the first year.
Ma said Tencent's first game based on Weixin may come out in "months", but he added the company is not eager to monetize its mobile Internet business.
gaochangxin@chinadaily.com.cn